Swindled: From poison sweets to counterfeit coffee - the dark history of the food cheats
Swindled: From poison sweets to counterfeit coffee - the dark history of the food cheats
Bee Wilson
London, UK: John Murray 2008 | 370pp | ?16.99 (HB) ISBN 9780719567858
Reviewed by Tony Onyett
Salmonella, E. coli, additives...it seems we can never trust the food we eat, but things used to be a lot worse. The 19th century appears to have been the great age of food adulteration when unscrupulous traders poisoned, spiked, coloured, substituted, faked and mislabelled food on a grand scale. Tea, coffee, bread, margarine and milk were among the many foods which sufferered at the adulterers' hands. Chemistry was at the heart of the deception, but was also at the heart of the detection and the setting of future food standards.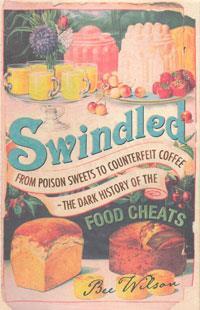 The man who started the fight against food adulteration was a German-born English chemist, Frederick Accum, who in 1820 published the book A treatise on adulteration of food, and culinary poisons in which he unmasked the food swindlers and publicised the extent of the problem. Accum gave many popular chemistry lectures at the Surrey Institution, where he became professor of chemistry. Rapt audiences, including society ladies, listened to public chemistry lectures in these days when chemistry was popular. As well as setting the analytical chemistry battle lines against the adultererers, Accum was a tireless political campaigner for food quality, and even published his own recipe book Culinary chemistry in which he championed food based on seasonal fruit and vegetables, and the conservation of food as pickles, jams and jellies.
After Accum, food swindling still went on, but the perpetrators had to be cleverer in light of increasing analytical sophistication and public awareness.
The next giant in the fight against food adulteration was Arthur Hill Hassall whose tireless efforts led to the passing of the first general Adulteration Act in 1860.
In addition to the UK, the same battle was being fought across the Atlantic, and so this book devotes considerable space to the setting up of the Food and Drug Administration (FDA), and in particular the work of Harvey Washington Wiley, leading eventually to the passing of the Food, Drug and Cosmetic Act in 1938.
Despite the efforts of Accum, Hassall and Wiley, the food swindlers are still active today, as 'food is only as trustworthy as the people who make it and sell it'. The battle against mislabelling, 'protected origin' foods, organic labelling, GM, pesticide-free etc still goes on with DNA testing and sophisticated analytical techniques.