The RSC's polymers in liquid formulations task force is laying out the innovations needed to deliver biodegradability and circularity
This week the UN Biodiversity Conference in Montreal announced the 'global goals for nature' in the Kunming-Montreal Global Biodiversity Framework. This framework is likely to shine a light on the chemicals industry perhaps more than any previous sustainability goals have done before. It aims to compel governments and industry to maintain, enhance and restore ecosystems. That includes halting species extinction and maintaining genetic diversity; ensuring sustainable use of biodiversity without compromising food and clean water; addressing equitable distribution of resources and protecting indigenous peoples' rights; and providing money, resources and conservation efforts to support and protect biodiversity.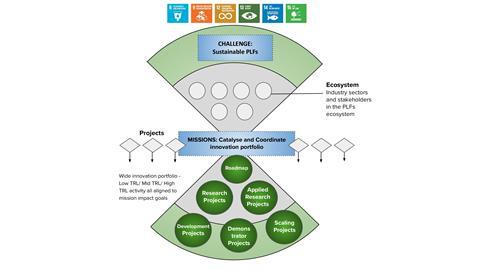 For those unfamiliar with the work of the Royal Society of Chemistry sustainable polymers in liquid formulations (PLFs) task force, the group was established after our reports showed that an estimated 36 million tonnes of polymers in liquid formulations (PLFs) are made and sold each year – enough to fill Wembley Stadium 32 times over. As a group of thousands of different chemicals, PLFs are used as ingredients for specific functions in millions of household and industrial products – for example, they help paint stick to walls and hydrate your skin in moisturisers.
The sustainability challenges affecting PLFs are vast but not visible: of the 36 million tonnes of PLFs many are produced in sub-gram quantities, registered for production in a variety of ways, and produced as single entities or combination materials so the issues related to PLFs do not easily align to any clearly defined policy avenue like Net Zero.
Setting missions for sustainability
We have teamed up with Rowan Conway – strategic designer, multi-stakeholder collaboration specialist and visiting professor of strategic design at University College London, UK – to use a mission-oriented innovation method to drive transformation. This process is helping the taskforce to feed into concrete missions that can guide research and innovation activity for sustainable PLFs using the below framework that is informed by the work of Mariana Mazzucato at the UCL Institute for Innovation and Public Purpose.
The day-to-day work of the task force is underpinned by three marquee workshops, or Mission Labs. The first Mission Lab's focus was on mandate, in which we discussed terminology for this newly defined group of polymers. We also discussed the individual missions – biodegradability and circularity – that would allow us to tackle this global challenge.
The PLF system is diverse – the needs of personal care are profoundly different from those of coatings or paints – so an industry-wide transition needs an equally diverse approach
The second of three marquee workshops took place in October – and focused on mapping. Taking part were multiple representatives from our task force members: Afton Chemical, BASF, Croda, Crown Paints, Dow, Northumbrian Water, Scott Bader, Unilever, United Utilities, Walgreens Boots Alliance, and also our broader stakeholder group representing the UK research and innovation ecosystem. We undertook two key exercises: landscape mapping (to understand the sustainability landscape for both missions) and road mapping (to understand the pathway to progress).
Landscape: understanding the grand challenge
When considering sustainability of PLFs, we asked the taskforce to consider the five Fs of sustainable PLFs: feedstocks, formulation, functionality, fate and future.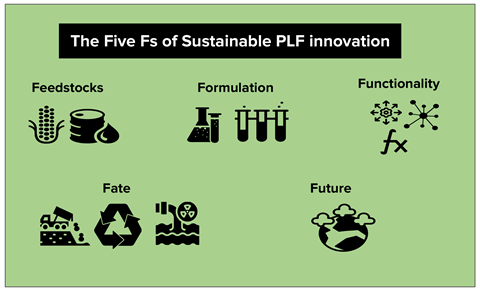 Taking these in order, feedstocks must be considered in real depth as 'food first' land use policies and resource security for feedstocks may become scarcer. Shifts to bio-based feedstocks will have impacts on biodiversity and land use if the use of biomass as feedstock is not regulated and sustainable, particularly in light of competition for sustainably produced feedstocks.
Formulation of products and chemicals is a proprietary business in most cases, and so understanding how formulations interact with each other in waste streams has not received a great deal of focus in research to-date. There are challenges associated with both shifting feedstocks and (re-)formulation. These include how to match the performance of best-in-class conventional polymers; how to predict the behaviour of novel polymers; how to anticipate the behaviour of new ingredients and blends when these are yet to be tested in the real world; as well as how to assess the sustainability and circularity profile of a given ingredient.
Functionality – especially through a transition – is hugely important. The role of regulation may be key in defining the relationship between government and industry in ways that does not rely on the consumer to choose a biodegradable or sustainable premium.
As for fate, beyond direct climate impacts, the leakage of PLFs and downstream products into the environment could have a range of adverse impacts on the nine essential planetary processes that regulate the stability and resilience of the Earth system.
The future of PLFs requires us to look at these planetary boundaries for the release of, for example, chemical pollution into the biosphere – and ensuring that we monitor to meet science-based targets. The PLF system is diverse – for example, the needs of personal care are profoundly different from those of coatings or paints – so an industry-wide transition needs an equally diverse approach. The opportunity and challenge to chemists in meeting this need will be further fundamental research into both technologies and sustainability impacts.
Road mapping: plotting the pathway to sustainability
Delivering the ambitious innovation needed to produce a sustainable future for PLFs requires a detailed and ambitious roadmap. Innovation roadmaps are an innovation management tool that help navigate the gap between saying and doing, and get into the detail of how to manage the activities related to innovation from fundamental research to commercialising new products and services. This is a simple process when working with known trajectories. In an emergent field such as PLFs it is less straightforward.
Delivering the ambitious innovation needed to produce a sustainable future for PLFs requires a detailed and ambitious roadmap
Most industries now have defined pathways to Net Zero, but the chemical industry is lagging, so understanding how to make zero harm PLFs which are benign by design will require ongoing assessment of the impacts PLFs on planetary boundaries, as well as an overview of the consequences of large scale industrial transitions to sustainable practices. In the workshop we plotted out a series of speculative research and innovation efforts that could address the full range of sustainability challenges confronting PLFs.
Our road mapping session was an open discussion around establishing realistic pathways to our eventual goal. Taking in perspectives from across the whole value chain meant that, when some task force members saw obstacles, others were immediately able to present solutions. This collaborative approach meant that we were able to evaluate actions, sticking points and accelerators to sustainable PLFs – from feedstock and formulation all the way to end-of-life. Much of the needs that were articulated focused on how to rapidly scale testing methods, how to forecast and understand bio-based feedstock availability and minimising disruption to service levels and functionality.
Our final Mission Lab in February 2023 will focus on mobilisation. We will plan for the launch of our findings and recommendations, develop a funding and stakeholder mobilisation plan, and define both the priority actions and long-term plan for sustainable infrastructure.
We will keep you updated on further progress made throughout this unique project – but if you have any questions, please contact me by email. For more information about PLFs, our reports and activities, visit the sustainable PLFs task force webpages.

Professor Anju Massey-Brooker FRSC, Royal Society of Chemistry Sustainable Polymers in Liquid Formulation Task Force Member
View full profile