Advanced materials formulations have radically transformed in recent years, as breakthroughs in chemistry and physics offer new materials that are lighter yet stronger, resistant yet breathable, and many other feature combinations once thought impossible. The constant evolution of material science and technology challenge existing means of measurement, driving the development and application of improved analytical methods. Analytical instrumentation must evolve and improve to keep pace with the demands of increasingly stringent testing regulations.
For example, chromatographic methods used for materials formulation QC analysis have to address a number of challenges: specificity needs to be considered; the resolution achieved between analytes, isomers and with matrix components needs to be optimised; the repeatability and reproducibility requirements of the method must be met; and, if possible, deploying a single platform for HPLC, UHPLC and SEC separations would be beneficial.
The system is capable of achieving high-efficiency separations to help meet your regulatory requirements with confidence
Waters have recently introduced the Arc HPLC, a modern liquid chromatography system that replicates established test methods while delivering improved performance. The incorporation of technology developments such as a flow through needle injector, engineering improvements leading to increased operating pressure tolerances and advanced software tools allowing for gradient replication for method transfer help materials formulators in their QC testing regimes.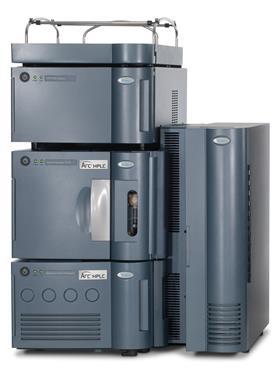 Modernising legacy methods
Ever-evolving regulations across materials industries such as cosmetics and personal care, agrochemicals, FMCG and electronics are impacting LC method development approaches for product quality control and beyond. For example the US FDA has sent warning letters to several cosmetics manufacturers and formulators in recent years over inadequate QC testing regimes, and with increasing societal demand for sustainability challenges to be addressed through the removal, re – use and recycling of plastic waste, regulations are currently being drawn up to ensure the safety of polymeric packaging derived from recycled sources.2 The Arc HPLC System has been engineered to provide greater agility, robustness and efficiency to help materials manufacturers meet regulatory burden, while reducing costs and risk of failure. The system is capable of achieving high-efficiency separations to help meet your regulatory requirements with confidence. The increased pressure tolerances of the system allows you to improve the performance of legacy LC methods using smaller 3.5µm particle sizes without compromising data quality, avoiding the burdens of older, less efficient LC systems.
Quaternary flexibility, binary precision
Although the Arc HPLC System uses quaternary gradient formation, ideal for method development flexibility, it performs as well as many binary HPLC systems. In a side-by-side comparison for a challenging separation of cosmetic fragrance and preservative ingredients propiophenone and valerophenone in the presence of known related impurities and prescribed ingredients such as parabens at high flow rates, the system delivered similar retention time stability and superior peak area repeatability compared to a competitive binary HPLC system.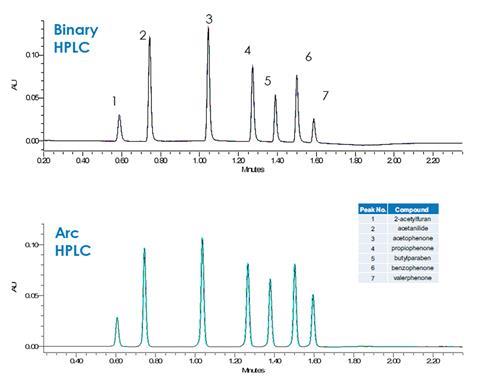 In addition to increased analytical precision, the Arc HPLC system offers performance benefits compared to competitive systems for a number of other USP system suitability parameters such as tailing factor, carry over and column efficiency.
HPLC and size-based separations on a single platform
The Arc HPLC system's inherent flexibility coupled to Empower 3 CDS analysis tools allows for GPC analysis of polymeric formulation excipients such as PEG and PEO on the same platform as used for RP and NPLC analyses.
GPC requires precise, reproducible flow rates to generate valid data, easily achievable with the Arc HPLC system. The automated calculations available in Empower 3 CDS make it simple to measure polymer sample parameters such as Mn, Mw, Mz, MZ+1 and polydispersity.
Whether you're developing a new method, re-developing an existing one, or managing the deployment of your method in routine testing, the Arc family of LC systems can help. When paired with the appropriate Waters column technology and Empower compliant-ready software, you can ensure robust performance and results. Whether it's routine analysis, facilitating data review, eliminating burdensome documentation, or improving the overall quality of laboratory data, Arc can take your lab to the next level.
Learn more about the new Arc HPLC and how it can provide you with the enhanced HPLC performance you need and the results you can trust.

Waters Corporation is a global leader in analytical instruments and software that has pioneered chromatography, mass spectrometry, and thermal analysis innovations serving the life, materials, and food sciences for more than 65 years.
View full profile