Using a data driven approach to deliver solutions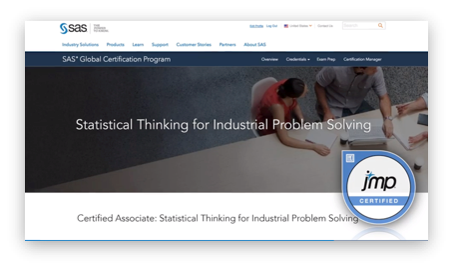 In virtually every field – across engineering, industry, science, academia and beyond – gaining insight from data is central to problem solving, innovation and growth. This is especially true when using chemistry to improve our health, our environment and our daily lives.
Software puts the statistical techniques that can be used to make sense of data within easy reach. But without understanding which approaches are useful, and how to check, interpret and communicate results, solutions may prove unworkable, and the best opportunities will remain undiscovered.
That's why we created Statistical Thinking for Industrial Problem Solving.
Build your data skills online
Developed with industrial practitioners and academics worldwide, this online course is available – free of charge – to anyone interested in using data to solve problems.
The course aims to limit theoretical baggage using simulations, visualisations and practical examples to convey the key ideas required to make use of data with confidence. And rather than present the required statistical techniques in isolation, we use real-world industrial scenarios throughout the course.
This allows us to contextualise the use of statistical methods and illustrate how to link them together in a coordinated way to solve common industrial problems. If your company is focused on improvement rather than problem solving don't worry, the ideas and techniques are relevant to both activities.
The course content was devised by experts from industry, academia and those with a foot in both camps. It includes seven modules of self-paced learning, totalling 25 to 30 hours.
In each three to five-hour long module you will learn how to define a problem and map a process, how to identify the data you need to solve your problem, how to explore this data and how to use it to make decisions. You also learn about quality methods and the tools for building statistical and predictive models.
Tracking a product journey: From bench to assembly line
Finally, we introduce statistically designed experiments to efficiently support the cycles of learning that take you from the bench to the manufacture of viable products.You can start at the beginning and work through the whole course, or just take selected modules.
Each module includes brief instructional and demonstration videos. There are also questions and exercises to test your understanding and allow you to practice what you have learned. A self-assessment quiz at the end of each module tracks how your knowledge is building. Achieving a pass grade at an end of module quiz gives you a badge that certifies successful completion of the content.
The software used throughout the course is JMP Pro, however, because the focus is the practical application of proven and powerful statistical techniques, the knowledge and skills you gain are transferrable. Familiarity with JMP software isn't necessary and you will be given access to it in the virtual learning environment (VLE) when you register.
Because it's in the cloud, you can access the course from any device, from anywhere, using the same login credentials. The course will be localised into other languages, so you don't have to be an English speaker. Built from the ground up for the modern learner, the course is available 24-7, so you can work when and how you want.
Access the JMP User Community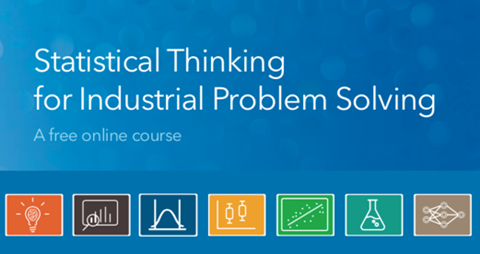 Once enrolled in the course, you can ask questions or start a discussion on the JMP User Community. You also have free online access to the book JMP Start Statistics.
After completing all the course modules, you will have the option to obtain a formal certification in Statistical Thinking for Industrial Problem Solving. This performance-based certification can be used to demonstrate your mastery of this area to your institution, employer or potential employer.
We created Statistical Thinking for Industrial Problem Solving to meet the needs of industrially-oriented engineers, scientists and students who want to learn how to extract valuable information from data. It's hard to find other internet-based resources with a similar scope, depth and focus. But it's only useful to the extent that you engage with the content, try to master it and apply it to what you do. Why not give it a go?
Go to www.jmp.com/statisticalthinking and click Enroll Now. Accept the terms, and you're on your way.

Since 1989, JMP has combined interactive visualization with powerful statistics to help people see their data more clearly. And when data is better understood, insight-driven improvements are sure to follow. We've seen scientists and engineers use JMP software to advance green-energy technologies, speed cancer therapies to market, and build high-performance infrared detectors for probes that traverse the unconquered vastness of deep space. It's spelled J-M-P but pronounced "jump," suggesting a leap in interactivity and innovation. JMP is a SAS company.
View full profile