Germany's pharma and biotech hub is an attractive option – but one with high taxes and stiff competition
Where is it?
Frankfurt is located in the southwest of Germany, on the banks of the River Main. With 732,600 inhabitants, it's only Germany's fifth largest city. However, its central location in the densely-populated and well-connected Frankfurt Rhine-Main area makes it seem larger and busier, particularly during the week. Frankfurt boasts one of the largest international airports worldwide as well as several train stations.
Why move here?
There are nine industrial parks dedicated to the chemical and pharmaceutical industry around Frankfurt. Industriepark Höchst, about 40 train minutes from central Frankfurt, is one of Germany's largest. It houses over 90 pharma, chemical and biotech companies, including BASF, Sanofi, Clariant and Siemens, and employs around 22,000 people. Moreover, Darmstadt – home to Merck KGaA and the element-creators at GSI – and Hanau, seat of Evonik Industries, are only a half hour train ride away.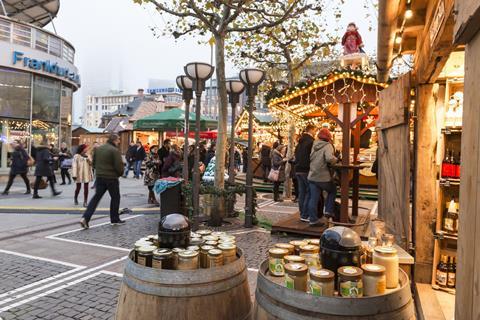 Frankfurt's Goethe University is complemented by the University of Applied Sciences, which was awarded 'family friendly university' by the Federal Ministry of Economics in 2007. The technical university in the nearby city of Darmstadt is one of Germany's top ranking universities for chemistry. Like many universities, the Goethe University doesn't impose outrageous fees onto their international students: they pay the same €360 (£312) per term their fellow German students pay – a fee that includes a season train ticket for all of Hesse.
In summer, walking along the river is fantastic; there are beautiful walkways and many Biergärten [beer gardens] where you can enjoy Frankfurt's social side.

Nadine Borduas, former Sanofi intern, now postdoc at ETH Zürich
Frankfurt is culturally and ethnically diverse, and more than a quarter of the population are foreign nationals. There are numerous bilingual schools in Frankfurt that use English as their working language, but many also hold classes in other languages such as Japanese, French, Spanish, Italian and Greek.
What's the downside?
Housing in Frankfurt is expensive and probably the reason around 350,000 people commute from the surrounding rural areas every day. Rents in Frankfurt are around €9.90 per m2, which is significantly above the national average of €6.30 per m2. If you're thinking of buying property, expect to spend around €4800 per m2.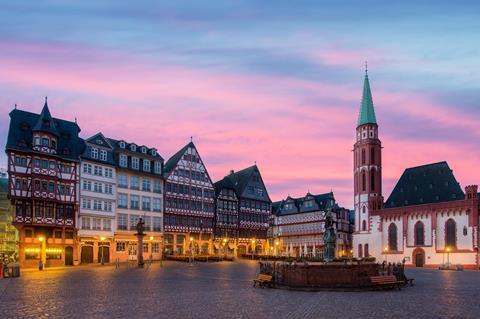 Frankfurt has one of the highest crime rates in Germany. However, these statistics might be misleading; most crimes are related to immigration and committed at the airport, only around 3% are personal safety related crimes.
Finally, US and UK chemists should be prepared to shake up their weekend shopping routine: in Germany most shops are closed on Sundays and national holidays.
How much will I earn?
Annual salaries for early career employees in the chemical industry range from €55,000–70,000, while at universities entry-level salaries are typically €44,000–48,000. Don't get too excited by these high numbers – if you are unmarried and a full-time employee, around 49% of your salary will go to the state in taxes, health insurance, social security and pension contributions.
What else do I need to know?
Germans love their degrees and certificates. No job application should come without certificates of your degrees and prior work experience. Skills-based CVs are almost unheard of – a CV should be a list of education and experience and feature a professional, passport-style photo.
Germany only switched from a five-year Diplom degree to MSc and BSc in 2006, and the job market is still getting to grips with MSc and BSc graduates. Few positions tailored to those degrees – mainly because 90% of German chemistry students go on to do a PhD.
For certain jobs (such as teacher), you'll need to gain official recognition from the Federal Ministry of Education and Research if you hold a degree from a non-EU country.
Though many Germans speak English, speaking a little German will certainly help when navigating the country's administrative system. For example, you'll need to register your permanent address at the residence registration office within a week of moving in. The German Chemical Society offers a comprehensive list of resources for anyone moving to the country, which should help avoid any such legal pitfalls.
Where should I go?
Frankfurt's distinctive skyscraper skyline gives the city a North American feel, but those seeking a more traditional vibe can visit the Römerberg, the medieval town hall square surrounded by reconstructed historic buildings. You can find small markets, festivals and other activities taking place in the square.
If you feel like traditional German food and Ebbelwoi [cider] head east to the historic restaurants Zur Sonne or Zur schönen Müllerin.

Frauke Zbikowski, editor at Nachrichten aus der Chemie, Gesellschaft Deutscher Chemiker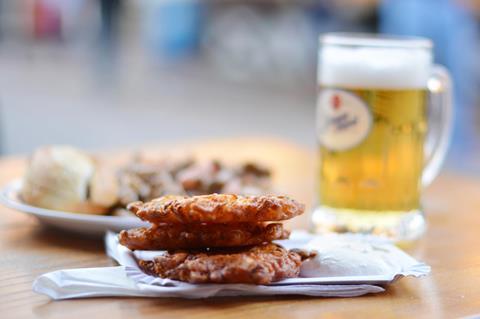 For more market goodness, head to the farmers market at Konstablerwache on Saturday morning. Here, you can indulge in Frühschoppen (a type of brunch that doesn't usually involve food but always includes alcoholic drinks), drinking apple wine and eating roast sausages or onion-marinated sour milk cheese. And from late November, the pedestrian-only area around the Zeil – Frankfurt's main shopping street – hosts an enormous Christmas market, whose origins date back to 1393.
If you feel like taking a break from Frankfurt's fast-paced and busy life, why not visit the Taunus mountain range, just north of the city.