Nina Notman talks to the scientists at the international organisation protecting humanity from the horrors of chemical warfare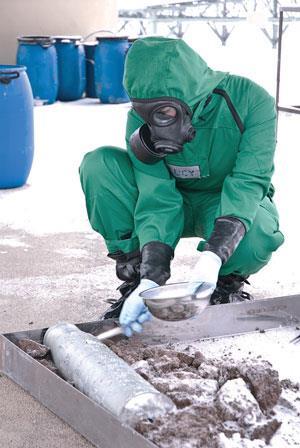 On 11 October 2013 the full glare of the global media spotlight focused on a semi-circular building in The Hague, Netherlands. Its 450 inhabitants, members of the Organisation for the Prohibition of Chemical Weapons (OPCW) had just been awarded the Nobel peace prize for their efforts to rid the world of chemical weapons.
'Our building was suddenly full of journalists,' recalls the OPCW inspector Liudmila Lebedinskaya. This was a new experience. Since its foundation in 1997, the OPCW had carried out its role in relative obscurity; before 2013 chemical weapons hadn't been used in anger for nearly 25 years, and the stockpile destruction programmes had moved along without notable incident.
The Syrian civil war changed everything. Allegations of chemical weapons use, swiftly followed by the Syrian government agreeing to destroy its stockpiles, led the OPCW to step tentatively out into the limelight. Now the staff based at its headquarters were adapting to working under a newfound media scrutiny.
Meanwhile, its 120 inspectors, a mixture of chemists, chemical engineers, munitions experts and health and safety specialists, were rising to a larger challenge. On the ground in Syria, their missions included investigating and verifying the removal and destruction of Syria's declared chemical weapons. It is time consuming, dangerous work. On 26 August 2013, a team of six OPCW inspectors were travelling as part of a United Nations convoy to investigate a sarin attack in Ghouta that had killed an estimated 1500 Syrians. Suddenly the convoy came under sniper fire. 'OPCW had previously not worked in such an environment,' explains Lebedinskaya. 'In the past, challenges were extreme weather conditions and bad roads. But in Syria inspectors were faced with real threats.'
An inspector calls
Inspectors spend a lot of their time away from home, typically between 70 and 160 days each year. Their primary role – aside from supporting the mission in Syria – is inspecting chemical weapon destruction facilities and plant sites around the world that produce chemicals that could potentially be used as, or to make, chemical weapons. 'Inspections are also carried out at chemical plants producing organic chemicals above certain production thresholds,' Lebedinskaya says.
The OPCW staff come from over 80 different countries. Lebedinskaya is Russian and has been at the OPCW since January 2009. She graduated from Omsk State University with a masters in chemistry in 1992, and continued to study synthetic organic chemistry until 1998. After a year-long postdoc at the same university, she moved to the State Research Institute of Organic Chemistry and Technology in Moscow. Here she gave analytical support to chemical weapon destruction processes (Russia along with the US have stockpiles still left to destroy; both nations are working towards a completion date of 2023). After five years as a government chemist, Lebedinskaya took jobs in industry before moving to the OPCW.
The inspectors travel to industrial facilities in small groups, with some inspections including the use of portable laboratories. 'We never know what to expect on a site for a sampling and analysis mission. If we're lucky, we will get space in a laboratory or a room. If we're not lucky then we have to set up in the tent with a power generator,' explains Lebedinskaya.

Industrial inspections with portable laboratories are very intense, with strict time limits (24–96 hours depending on the type of facility inspected). 'Within this time we have to set up the laboratory, pump down GC–MS, make it operational, check performance, collect and prepare samples, do the analysis and generate a report,' she says. Samples do not leave industrial sites for proprietary reasons.
Lebedinskaya now spends more time than most of her peers in The Hague as a trainer for incoming inspectors. There is a constant flow of new recruits because of the OPCW's staff rotation policy; professional employees have a maximum tenure of seven years, meaning plenty of support is offered for those joining or leaving the organisation.
Home support
Mauritian Vishal Goury experienced the welcoming process two years ago when he joined the small team of analytical chemists that run the OPCW laboratory in The Hague in January 2014. 'The OPCW has a culture of welcoming people and making sure they are effective and efficient very fast,' he explains. Goury, unlike Lebedinskaya, had no prior experience with chemical weapons before he arrived at the OPCW. 'The training I received was very thorough and I was able to learn very fast,' he explains.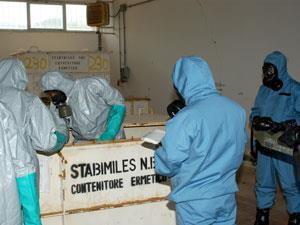 Goury gained his PhD in polymer chemistry in 2006 from the University of Mauritius. In 2007 he joined the island's Ministry of Health and Quality of Life as a government analyst testing a range of samples including body fluids, foodstuffs, water and drugs. In 2010, Goury also became an assessor for the Mauritius laboratory accreditation service. It is this part of his role that he credits with helping secure his current position. 'I act as a quality assurance representative for the [OPCW] lab,' Goury explains. His other main responsibilities are to prepare the GC–MS instruments that are taken on inspection missions and to train inspectors on how to use them.
The lab also houses a range of gas and liquid chromatography and mass spectrometry instruments. 'In a situation like Syria, when on-site analytical capabilities are limited and it is important to minimise the time that people spend in a potentially dangerous area, samples might be collected and analysed off site,' explains Lebedinskaya. These samples would be sent to the OPCW lab and then transferred to one of 19 designated OPCW laboratories around the globe for independent analysis. These labs, which include the Defence Science and Technology Laboratory (DSTL) at Porton Down, UK, undergo frequent rigorous testing through the OPCW laboratory proficiency testing programme, overseen by Goury and his colleagues, to keep their accredited status.
Technical diplomacy
The OPCW has other roles for scientists, which include supporting the capacity building programmes that promote peaceful uses of chemistry through various funding and outreach projects, and working with policymakers. In March 2013, Jonathan Forman joined the OPCW as their first ever science policy adviser. He gained his PhD in chemistry from the California Institute of Technology, US, in 1996, then spent over a decade working for a series of biotech start-up companies in Silicon Valley developing molecular diagnostic assay technologies. In 2009 he set up as a self-employed consultant before taking on his current role.
Forman describes his main role as being like that of a translator. 'When our policymakers and diplomats have need for technical advice, I help translate their requests into scientific questions, and then provide explanations of the scientific advice so that the diplomats can consider how to use it in their decision making.' The OPCW has a scientific advisory board made up of 25 independent experts from countries around the world that support both the OPCW scientists and policy makers, again with Forman's help. 'The downside,' Forman adds, 'is that the diplomacy and processes can at times be much more structured and formal than working in a Silicon Valley start-up company.'
Still, there aren't any organisations in Silicon Valley that can claim a Nobel peace prize.
Nina Notman is a science writer based in Salisbury, UK