The chemists joining forces across the continent
2018 marks the 10th anniversary of the Royal Society of Chemistry's Pan Africa Chemistry Network (PACN). 'We wanted to bring together a community across the continent, internationally, to give Africa a push in the right direction to ultimately becoming a self-sustaining science community,' explains the PACN programme manager Helen Driver. 'We're trying to put ourselves out of a job!'
Over the past decade the RSC, together with corporate partners including Syngenta, Procter & Gamble and GlaxoSmithKline (GSK), has invested over £2 million in supporting the African chemistry community through events, conferences, training courses and other activities.
Machine learning
'We don't fund large-scale research; we fund supporting activities,' Driver clarifies. 'One of our big success stories has been in analytical science training.' Today, the RSC and GSK are working together to train around 100 African scientists annually on how to use, maintain and interpret spectra from GC–MS instruments. This year will see the expansion of training courses on a second indispensable technique: LC–MS.
The GC–MS courses are the brainchild of Anthony Gachanja, an analytical chemist at Jomo Kenyatta University of Agriculture and Technology (JKUAT) in Nairobi, Kenya, together with his friend Steve Lancaster, now at Domino Printing Sciences, Cambridge, UK. The pair met as PhD students at the University of Hull, UK. When Gachanja returned to Kenya after a decade in UK academic labs he lamented the absence of GC–MS instruments in his home country. Gachanja and Lancaster arranged for a GC–MS to be donated to JKUAT and raised the necessary funds to pay for shipping and consumables. 'They got the equipment out there and up and running but they realised that it wasn't being used as much as it should be, as there weren't enough people in the community that had the skills to utilise this advanced bit of kit,' explains Driver. In 2009, Gachanja and Lancaster ran their first workshop training around 15 scientists from across Africa.
The courses have since snowballed. 'We have now trained hundreds of scientists mainly from public laboratories and universities – professors, lecturers, technicians and postgraduate students,' says Gachanja. The pair's efforts have also seen GC–MS machines installed in many Kenyan universities. '[When we started] we were the only university to have one, and now we have about 50 GC–MSs [in Kenya].' 2016 saw the first training courses run outside of Nairobi, with sessions also held in Addis Ababa (Ethiopia), Kumasi (Ghana) and Lagos (Nigeria). A cohort of 11 local trainers is being trained to ensure sustainability of the programme into the future.
Wet work
Another of the PACN's key contributions is to increase collaborations between African scientists, and also between African and European scientists. 'We run a series of events and seminars through the year,' says Driver. 'Our big one is the PACN Congress.' This free conference brings together over 250 African scientists each year. 'We welcome around 30 speakers, mostly from Africa and the UK, to contribute to the discussions and build collaborations with the people they meet at the conference.'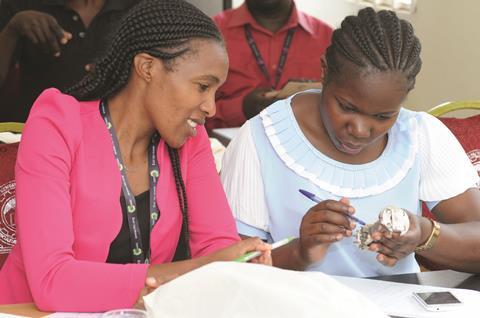 At the PACN Congress in Nairobi in 2013, microbiologist Wesaal Khan from the Stellenbosch University in South Africa was introduced to two kindred spirits: medical physicist Kevin McGuigan, of the Royal College of Surgeons in Ireland, and Malawi-based University of Strathclyde research fellow Tracy Morse. This meeting led to a joint project called Waterspoutt, with funding of €3.1 million (£2.7 million) from the EU Horizon 2020 programme. This project is developing three solar disinfections technologies with the view of providing clean drinking water to communities that currently rely on unsafe sources.
Khan is overseeing the implementation of one of these in South Africa: an up-scaled solar rainwater reactor. 'Solar disinfection inactivates microorganisms through the synergistic effect of ultraviolet radiation and mild heat,' she explains. McGuigan trailblazed this technique and has spent the past two decades encouraging communities to fill small transparent bottles with contaminated water and place them in direct sunlight for a day. The advantage of this new approach is that it purifies water on a larger scale.
Testing of the up-scaled model on roof-harvested rainwater, which is notorious for high microbial levels, will begin in early 2018. Test devices are being installed in an informal settlement and a farm worker community in South Africa, and also in some Ugandan schools. 'Each device can provide 125 litres of drinking water per day,' explains Khan. They are comprised of locally available materials, and don't require electricity to run.
'The Waterspoutt project has not only allowed my research team and I an opportunity to continue our research on rainwater treatment, but also allowed us to collaborate with world leaders in the field of solar disinfection,' Khan says. Driver describes these international collaborations as a win–win for all involved: 'There are plenty of statistics to show that international collaboration and co-authorship leads to more successful research and greater citation impact.'
International support
Chemical engineer Askwar Hilonga, from the Nelson Mandela African Institution of Science and Technology, Arusha City, Tanzania, has been an invited speaker at a number of PACN conferences. Hilonga has turned an initial small amount of external support into a business that has a direct impact on the wellbeing of thousands of people, explains Driver.
Hilonga returned to Tanzania after a PhD and postdoc in nanotechnology at Hanyang University in South Korea, determined to tackle what he considered to be the biggest challenge of his childhood: local water quality. 'In the Arusha region, in northern Tanzania, the main problem is fluoride,' he explains. He developed a filtration device – now known as Nanofilter – that uses nanomaterials to absorb dangerously high levels of fluoride from water. Nanofilter is made from locally available materials, and does not need electricity.
The next step was to get his idea out into the community. In 2015, Hilonga applied for, and won, the UK's Royal Academy of Engineering's Africa Prize for Engineering Innovation. He received £25,000 to start his business. Equally usefully, perhaps, the entire shortlist for this prize receives six months of intensive business training and networking opportunities.
In 2016, Hilonga was awarded a £350,000 grant to support Nanofilter from the Human Development Innovation Fund of Tanzania, run by the UK government's Department for International Development (DFID). Nanofilter is currently providing daily clean water for nearly 12,000 people and employs nearly 200 staff.
The UK government – through many agencies, including DFID and the British Council – provides support for African and international science, explains Driver. As do other European governments and scientific societies. The UK's Royal Society has been running programmes supporting science including chemistry in Africa for 20 years. 'Capacity development in Africa is a real priority for our international work,' explains Richard Catlow, foreign secretary of the Royal Society and computational chemist at University College London. Current programmes aimed at chemists include the International Exchanges Awards, run in collaboration with the RSC, that fund travel and research costs for UK and African collaborations.
The Royal Society also collaborates with DFID through the Royal Society-DFID Africa Capacity Building Initiative. Ten research consortia, consisting of three sub-Saharan African groups and one UK-based team, have been given over £1 million in the past five years. These projects focus heavily on PhD training and developing relationships between the students in all the participating groups. 'The students from the different African institutions interact with each other and the students in the UK,' says Catlow. 'It's developing an African-UK student cohort.'
Diverse challenges
Africa is a very diverse continent, with some world-class universities in South Africa as well as universities in countries who face political instability, security problems or lack of reliable infrastructure. 'We have a dearth of equipment and chemicals,' explains organometallic chemist Gloria Obuzor from the University of Port Harcourt, Nigeria. 'There is no university in Nigeria where I could say we have a functional glove box, a vacuum line or liquid nitrogen. In my own department, we don't even have a functional rotary evaporator.'
There is a lack of engineers, consumables and spare parts which causes problems maintaining equipment in many African countries. But ongoing equipment issues aside, the consensus is a buoyant view of scientific progress across the continent. 'Generally, I think it's a very optimistic picture from Africa,' says Driver. 'Economies are growing and there are more opportunities for the skills in the science community to be applied in up-and-coming industries in these countries.'
Robert Mokaya, a Kenyan materials chemist and the associate pro-vice-chancellor for global engagement (Middle East & Africa) at the University of Nottingham, UK, shares her optimism. Mokaya moved to the UK in 1989 as a PhD student and has been involved with the PACN from the beginning. 'The Pan Africa Chemistry Network was a door into quite a wide diversity of African chemists. There was a significant increase in the amount of contact that I had with African chemists, especially in countries other than Kenya.'
Mokaya would however like to see a change in how UK funds for African science are being administered. Most UK funders require that the lead investigator in collaborative projects is a UK-based academic but Mokaya feels it is time to start handing over the reins and allowing chemists in Africa to take the lead. 'A subtle shift should start moving the centre of gravity more to the south than to the north but all the time continuing the capacity building.'
Since 2015, the Alliance for Accelerating Excellence in Science in Africa (AESA) has distributed funds for Africa-led research programmes. Now it is asking African governments to invest 1% of their GDP in scientific work. This is an idea that Mokaya agrees with. 'I think that we should stop assuming that African governments have only a little role to play in capacity building,' he says. 'The African governments should now also start putting in money.'
A crucial part of the chemistry community in Africa is the national science and chemical societies, and supporting these is part of the PACN's efforts. It also supports the Federation of African Societies of Chemistry (FASC). 'The presidents of all the chemical societies in Africa represent their countries [in the FASC] in sharing their experience and how they carry on activities in their countries,' explains Obuzor, the FASC's vice-president and the immediate-past president of the Chemical Society of Nigeria.
'Africa is full of incredibly talented, motivated scientists,' says Driver, 'and when the international community gives them an opportunity; they just run with it and achieve amazing things.'