With university places at a premium, Emma Stoye gets some tips on standing out and securing a place on the right course
Hoping to study chemistry at university? You're not alone: undergraduate chemistry courses in the UK have steadily increased in popularity over the past decade. But while this is good news for chemistry, it also means that beating the competition and landing an offer could be harder than ever before. We asked some admissions tutors, the decision makers whose desks your application may eventually land on, to share their top tips for success.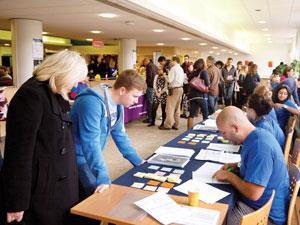 First impressions
Every university application contains the basics: a list of your academic credentials, including your exam results, predicted grades and a reference from your school. These are all taken into account, but an admissions tutor is likely to pay just as much attention to your personal statement – those few lines of text that distinguish you from dozens of otherwise identical applications. It's probably the best sense the tutor gets of you as a person rather than a pile of paperwork. So what are they looking for?
'It sounds obvious – but a personal statement has got to be personal!' says David Read from the University of Southampton. 'I want to read about what inspired that student to study chemistry – something that makes me see the subject through their eyes. What got me into chemistry was our teacher making an ammonium dichromate volcano on the desk. It was spitting sparks over all of us and we thought that was brilliant! So that was what I put on my form.'
Demonstrating an interest in chemistry beyond school-level courses is also important, says Michael Went from the University of Kent, which has just started offering undergraduate courses in chemistry. 'Students may have gone to chemistry club, participated in chemistry competitions or done work experience – anything like that would help to demonstrate a commitment and enthusiasm for the subject,' he says.
Face to face
Many universities have an extra layer of assessment: an interview with lecturers or tutors. This is a chance to impress in person, but can be daunting if you don't know what to expect.
'An interview is not an exam or a memory test,' explains Dewi Lewis, from University College London. 'What we want to see is the ability to apply your current knowledge to a new problem you've never seen before.' He adds that seemingly simple questions often prove challenging. For example: 'How many molecules are in this glass of water?' or 'What's nanotechnology all about?'
You are likely to be asked about interests you mentioned on your personal statement, so make sure you are comfortable talking about what you wrote. 'Never lie or exaggerate – even a throwaway comment might be brought up in the interview,' says Lewis.
But it's not all one way, points out Andrew Parsons, from the University of York. 'You'll have an opportunity to chat one to one with an academic, look around the department, meet current students and experience life on campus – so make sure you get the most out of it, and ask lots of questions,' he says.
Decisions, decisions
For many applicants the hardest part is picking which courses to apply for in the first place. There are hundreds of different options on offer at UK universities, and with the recent increase in tuition fees, making the wrong choice could be an expensive mistake. If you're unsure, the best route to take is single honours chemistry, says Lewis, and look for flexibility within the course.
'Many chemistry courses have extra modules you can take partway through the degree to pursue specific interests,' he says. 'Applying to do a vocational or joint honours degree requires you to make those choices before you've even started. Many of these degrees prepare you for specific parts of the industry, which in three or four years' time you may no longer be interested in, so early specialisation is not necessarily a good thing.'
Whatever you decide, it is worth gathering as much information as possible, says Read. 'Unfortunately, I think there are many students who get partway through their degree and find it wasn't what they were expecting,' he warns. 'Students really need to do their research.'
This means poring over prospectuses, visiting universities – either informally or on official open days – and talking to students and staff.
There is also Meet the Universities run by the RSC. It's a free event, where you can meet admissions tutors and find out about chemistry courses at different universities in person.