Physical chemistry technician Neil Barnes has won the Royal Society's Hauksbee award for outstanding achievements 'behind the scenes'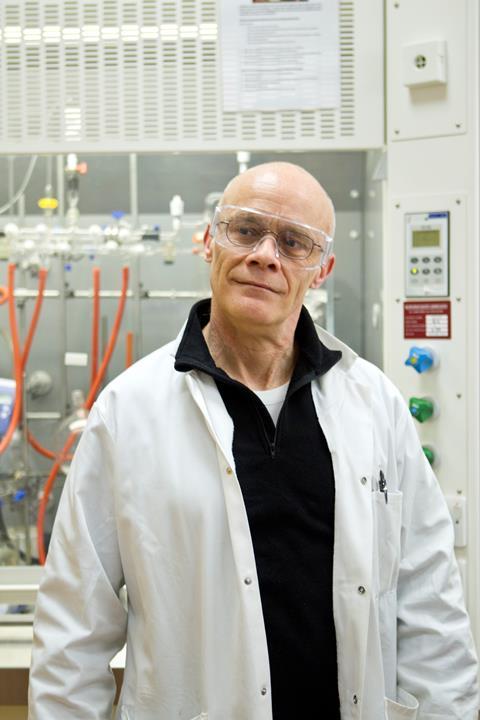 When Neil Barnes was 11 years old he spotted a classified advert in the Nottingham Evening Post for a large 'banana box' of chemicals, which he begged his father to buy. To his delight, Barnes discovered that it was not only packed full of serious reagents but also contained metallic sodium and potassium. 'Of course I set myself on fire with the potassium and my mum shouted at me because I burnt holes in my shirt,' he laughs. He still has the sodium safely stored as a memento.
Barnes has been a physical chemistry technician at the University of Nottingham, UK for 45 years. He is a familiar face to fans of the hugely popular YouTube channel Periodic Videos, often appearing with his friend Martyn Poliakoff. In the videos, he can be seen creating impressive explosions, 'boiling' eggs in chemical solutions and investigating a famous scene in the TV series Breaking Bad where hydrofluoric acid is used to dissolve a human body. With his intense gaze and chemical expertise, students have even been known to liken Barnes to the series' main character, Walter White.
Hauksbee award
Barnes was recently awarded the Royal Society's first ever Hauksbee award, which recognises outstanding 'behind the scenes' achievements in science, after being nominated by colleague Samantha Tang. He was particularly pleased to discover that the award is named after Francis Hauksbee, 'the grandfather of vacuum systems', given that vacuums are his speciality too. 'I am your go-to man if you want absolutely nothing,' he jokes.
The Hauksbee award adds to the list of prizes he has previously received including the Papin prize for outreach, the University of Nottingham's knowledge exchange and impact award in the media category and the Royal Society of Chemistry President's Award in 2016.
His interest in chemistry was sparked during his time at Nottingham's High Pavement Grammar School. There, he distinctly remembers his chemistry teacher Mr Mouncer demonstrating hydrogen and oxygen exploding in a glass bottle with no safety precautions. 'He took off the stopper, put a spill to it and there was an almighty bang. Hydrogen and oxygen in a stoichiometric mixture.'
Put a match to it and you get an almighty kaboom … What's not to like?
As well as enjoying the spectacle, Barnes was fascinated by the role the lab technicians played. 'Stuff used to appear as if by magic from stage left or the little room around the back,' he recalls. Before long he had introduced himself to the technicians and started helping them out in his spare time.
After A levels he began work at Nottingham's chemistry department. At the same time, he studied for a higher national certificate (HNC) in chemistry at Trent Polytechnic, followed by an ordinary national certificate (ONC) in electrical and electronic engineering at The People's College. His electrical expertise has proved very useful over the years, especially in the days when Nottingham's technical team regularly had to design and build their own electronic items.
Coming from a 'working family', Barnes felt obliged to begin work straight after finishing school. However, had times been different, he now thinks he may well have studied for a BSc and PhD in chemistry.
He feels strongly that technicians should be added to academic journal articles. Although Nottingham has a scheme to help with this, Barnes says he has not noticed any technicians' names on recent research papers. 'I think if somebody has spent a significant amount of time building equipment their name should be added,' he says.
Sustainable explosions
Over the years, Barnes has built up a vast chemical knowledge as well as a satisfyingly neat workshop packed with interesting bits and pieces, including countless vacuum parts.
He is always pondering fresh experiments to demonstrate on the Periodic Videos. His next one will be 'sustainable explosions' in a hand-blown glass vessel. The plan is to make hydrogen and oxygen using a photovoltaic cell, charge controller, lead-acid battery and electrolysis cell. 'A bit of water, a spot of sulfuric acid to boost conductivity and then you electrolyse water and fill a balloon full of hydrogen and oxygen. Put a match to it and you get an almighty kaboom when it goes back to water. What's not to like?' he says.
Fans of the videos often suggest experiments they would like to see carried out and some also send in samples, with the latest gifts including yttrium and ytterbium.
Meanwhile, his day job in physical chemistry continues to provide interesting challenges, despite current battles to obtain funding. For example he is involved in a project to evaporate catalysts onto powders.
In his spare time, Barnes enjoys rock climbing and is also a keen motorcylist. Meanwhile, chemistry also provides his adrenaline spikes. 'Every once in a while, chemistry catches you out. If you change the conditions and the quantities sufficiently you can get a completely different reaction. There may be a deflagration, there may be a detonation,' he says with a glint in his eye.