Adam Walker co-founded bespoke solvent company Bioniqs and is now its CEO.
Adam Walker co-founded bespoke solvent company Bioniqs and is now its CEO.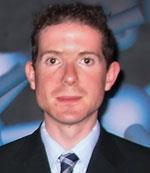 Adam Walker has come a long way since his days at the bench. As newly appointed CEO of a spin-out venture specialising in developing bespoke solvents, he has deftly steered his career from academia to industry.
Walker did a Masters degree in chemistry at University of Wales, UK. For his final year research project he produced drug analogues that mimic the effects of painkillers. Walker's interest was piqued by work carried out by Neil Bruce, then at the Institute of Biotechnology at the University of Cambridge, UK. 'I felt that the most interesting work was being done at the interface between biology and chemistry, and I wanted to move into biotechnology,' he recalls.
Fortunately for Walker, Bruce's lab was lacking a chemist. Walker joined Bruce in 2000 to study for a PhD, hoping to find a way to integrate biological catalysts into the preparation of oxycodone, an opioid analgesic. But he soon hit a snag; the intermediates in the path to oxycodone are poorly water soluble and enzymes only function in a water-based environment. Poring over the literature, Walker came across some intriguing work using ionic liquids as solvents, developed by Roger Sheldon at Delft University of Technology in the Netherlands. Walker's initial attempts to use ionic liquids as solvents for biocatalysis failed. But he persevered and eventually succeeded in chemically modifying an ionic liquid to make it resemble water more closely, so that his enzymes and drug intermediates remained stable in one solvent.
Designer solvents
Towards the end of his PhD, Walker was convinced that replacing water with modified ionic liquids as solvents for industrial applications was commercially viable. He decided to set up a spin-out company with Bruce. The Institute of Biotechnology fosters a commercial environment. 'Everyone at the Institute is encouraged to think about the commercial potential of their research,' Walker explains. The University of Cambridge filed the patents for their 'designer solvents', but before Walker and Bruce could set up a spin-out company in Cambridge, Bruce was offered a position as chair of biotechnology at the Centre for Novel Agricultural Products (CNAP) at the University of York, UK.
This turned out to be a stroke of luck for the two entrepreneurs, because CNAP takes a very proactive approach to spin-outs. When the pair moved to York, they found a partner in Amaethon, a technology commercialisation company specifically created to commercialise CNAP research. In a sense, Amaethon allowed them to bypass some of the usual hurdles that a new spin-out venture faces. 'We didn't have to go out and woo the venture capitalists to try to get money out of them,' Walker says.
Bespoke chemistry
In 2004, Walker and Bruce co-founded Bioniqs, which designs bespoke solvents for industrial applications. 'I joined Bioniqs as senior scientist in 2005, which of course is relative if your company consists of three people,' Walker laughs. Although the company is growing rapidly (it now employs eight people) Bioniqs cannot produce the bulk solvent quantities its pharmaceutical clients need. So the company designs and tests new solvents while its manufacturing partner, Merck, makes them on a large scale at its plant in Darmstadt, Germany.
There is real demand for Bioniqs' expertise, as the company has already demonstrated in the area of natural product extraction. The drug artemisinin, approved by the World Health Organization for the treatment of malaria, is found in the leaves of the plant species Artemisia annua. Conventional extraction methods include boiling hexane, which is inefficient, flammable and not environmentally friendly. Bioniqs offered a solution. 'We developed a benign solvent that would extract the drug from the plant in a good yield at room temperature,' Walker says.
Walker made the transition from postdoc to CEO in the space of three years, and has coped well with the rapid shift in roles. 'It was a real eye-opener growing a company quite literally from scratch.' Walker was thrown in at the deep end, but he was able to rely on the help and advice of Amaethon and Gwyn Humphreys, Bioniqs' chairman, who has considerable experience of running successful spin-out companies. 'The best way to learn is from people who have already done it,' Walker observes. 'There's no substitute for experience.' Walker may just have mastered the steep learning curve; Bioniqs is set to be profitable by the end of this calendar year.
Curriculum vitae
Age 29
Work experience
2006-present
Chief executive officer, Bioniqs, York, UK
2005-2006
Chief scientific officer and director of operations, Bioniqs, York
2004-current
Academic founder and director of Bioniqs, York
2003-2005
Postdoctoral research fellow, CNAP, department of biology, University of York
Education
2003
PhD, Institute of Biotechnology, University of Cambridge
2000
MChem, department of chemistry, University of Wales, Swansea
Hobbies
Fencing, horticulture, Egyptology