Head of the chemistry department at Stony Brook University in New York is locked in a tight race for a seat in the House of Representatives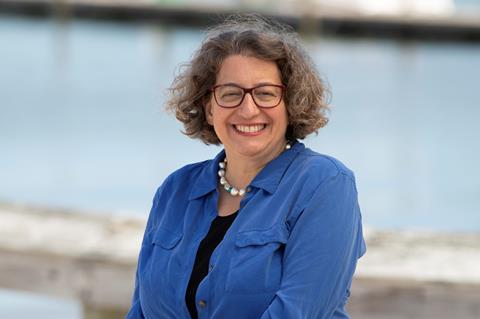 Update, 10 December 2020: Nancy Goroff formally conceded her House race to incumbent Lee Zeldin on 4 December. The final tally showed that she captured 45.1% of the votes, while 54.9% went to Zeldin.
Nancy Goroff, who taught chemistry at Stony Brook University in New York for 23 years and chaired the school's chemistry department, might soon become the first woman in Congress with a PhD in the natural sciences. She is running as a Democrat and aims to unseat Republican Lee Zeldin – an attorney – as the representative for New York's 1st congressional district in the upcoming 3 November election.
At the university, Goroff worked to develop new materials for solar energy. She stepped down as chair of the chemistry department in May 2019, taking an unpaid leave of absence to run for Congress.
Out of the 435 members of the House of Representatives, 145 are lawyers, 183 are businesspeople and 333 are male, and this does not represent the US public, according to Goroff's campaign. As a female PhD scientist, she hopes to offer a new perspective in Congress that will be valuable as America charts its recovery from the pandemic.
'Stony Brook is the largest university in the district and I have a lot of support there among students, faculty and staff,' Goroff tells Chemistry World. 'I still have my research lab going, we are just about ending the research experiments – my last two students are graduating this semester.' She has published 26 papers and has two patents.
Goroff, who has always been politically active and first worked on a campaign when she was 12 years old, says her career as a scientist has prepared her to be a politician.
Chemistry as preparation for politics
'Chemistry actually does give me good experience in terms of … looking at data sets and evidence, making judgements, and coming up with innovative solutions to real-life problems,' she says. 'Also, as chair of my department, I had to do a lot of advocating for my students and faculty, and make sure that I was their voice to the administration and to others at the university.'
In recent years, Goroff's political action has mostly involved championing issues that she cares about, like climate change. She is an active member of the Union of Concerned Scientists – a US non-profit science advocacy organisation – and participated in marches like the Women's March and the Climate March in 2017. She has also lobbied on Capitol Hill regarding issues like the environment. 'But then it got to the point where it just didn't feel like that was enough,' Goroff recalls.
The Covid-19 pandemic has significantly affected her campaign. Goroff and her election team are hosting only online events, and they are not out knocking on doors. Instead, volunteers are making thousands of calls every day as part of an effort to engage voters. In fact, while Goroff spoke with Chemistry World, a volunteer accidentally called her landline as part of this effort, not realising it was her. It was the second time that had happened in the past week.
If elected, a top priority for Goroff will be to ensure that science is the cornerstone of her district's response to Covid-19. This includes getting adequate tests and making personal protective equipment available for all first responders, ensuring any vaccine developed is safe and effective, and sending clear public health messaging about how people can stay safe and stop the spread of the virus.
Taking on science denial
One of her biggest concerns is science denial. 'When we have people at the highest levels of the US government who think it's okay to have alternate facts … it undercuts things that we know to be true, and creates an atmosphere where scientists can't do their work,' Goroff warns. 'We need to know that the results that we are seeing published, and so forth, are based on real research and not on politicisation.'
The Covid-19 situation in New York's 1st congressional district was 'very tough' from March through May, Goroff says. Overall, the broader county had seen about 47,000 cases of Covid-19 and more than 2000 related deaths, as of 10 October. 'It hit here very hard,' says Goroff, adding that things 'have gotten much better' because the local and state government have issued very clear public health directives that people must wear masks if they are in public and can't maintain physical distance from others.
Schools in the region, including Stony Brook University, were closed down early and are now back open with various precautions in place, such as the option of taking online classes. Within the chemistry department, classes with more than 45 students are 100% remote, and laboratory courses are in-person but with reduced capacity. 'At least, because they have fume hoods in the labs, the air turnover is very high,' Goroff says, adding that researchers wear masks in the labs.
Goroff grew up outside of Chicago, with a mother who was very engaged in local politics, and a father who was a PhD physicist working in computer science. When her parents divorced, Goroff stayed with her mother, and her father moved to Wisconsin to teach computer programming at a university. In fact, both of her daughters – now young adults – have followed in their grandfather's footsteps as computer coders.
Outside of her research, academic career and campaign activities, Goroff loves to bake. There is always sourdough bread cooling on her kitchen counter. She also often goes sailing on the Long Island Sound with her husband Chris, whom she married last summer.
Goroff says the hardest thing she has ever done is working as single mother with two teenagers, after she and her first husband separated. However, running for elected office is also tough – the race is very tight.
The Democratic Congressional Campaign Committee's polling, released in late August, showed Goroff leading Zeldin by two points, and there have been no polling updates. However, Daily Kos Elections and the Cook Political Report predict a narrow Republican advantage.