As China positions itself as a world-leader in research, western scientists are in demand. Vikki Cantrill talks to the chemists who have emigrated east
Growth and success in science and industry are national priorities for China. At the third plenum of the Communist party last year, the government committed to investing in basic research, extending opportunities for international cooperation, and reforming China's science and technology sectors.
Perhaps unsurprisingly then, more western chemists are considering China as a place to live and work. But, for those wanting a slice of the action, what are the opportunities and what can they really expect?
Inside job
Jason Chruma jumped at the chance to move to China, when a colleague mentioned that Sichuan University was looking to hire western, native-English-speaking faculty to lead research programmes and teach chemistry. Working at the University of Virginia in the US, Chruma had noticed a significant and rapid improvement in the quality and quantity of papers coming out of China, and had a sneaking suspicion that he might end up working there. 'China was moving to the forefront of organic synthesis very quickly,' he says.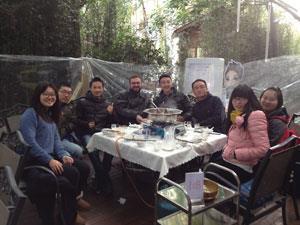 Chruma notes that China's investment in scientific research is accompanied by a strong will at state and institution level to attract and support western faculty. But, he warns, 'I would not encourage any westerner to take a position such as mine without an inside connection.' He is quick to acknowledge the help of his colleague, Lin Pu, who orchestrated arrangements and acted as an intermediary when Chruma relocated in 2012. 'Personal relationships are critical in China … without them, nothing moves forward.'
However, Chruma values the emphasis on human relations that pervades Chinese culture. 'The student–teacher relationship is closer to a child–parent relationship than in the west. It adds some responsibilities, but I prefer the more family-like dynamic than the strict boss–employee feel.'
Oren Scherman from the University of Cambridge in the UK is equally enthusiastic. '[China] is such a wonderful place to do science and discuss science,' he says. Scherman is currently on sabbatical at Tsinghua University in Beijing. He is hosted by Xi Zhang, who helped set up his position. He chose China because it is a hot spot for the chemistry and materials science that interests him.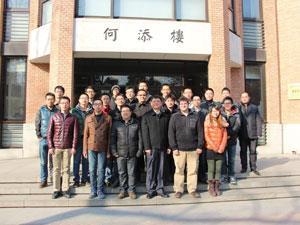 Scherman believes it is his duty to be well connected to help his students and postdocs secure good jobs in the future. His schedule is exhausting, keeping up with students in China and the UK, but he has been impressed by Chinese students' hunger for knowledge – high praise from a man who has taught at the California Institute of Technology and Cambridge. 'They are outstanding. I am at one of the best universities in the world. I mean, absolutely outstanding.'
Chruma agrees that the quality of Chinese students is excellent. 'The hard part is knowing which students to turn away … there are so many good students eager to work with a foreign professor.'
Real reform
Creative freedom and support rank highly for Jay Siegel, who moved from Switzerland in 2013 to become dean of the School of Pharmaceutical Science and Technology and director of the Institute for Molecular Sciences at Tianjin University. 'The east is one place you can really be actively creative,' he says. As a westerner, Siegel's appointment as a full-time academic dean is unique in China and he believes he can effect change in a major way.
Siegel's appointment reflects China's strengths as an 'absorptive state'. As noted in a recent report published by the independent charity Nesta, the country is adept at attracting and profiting from global knowledge and networks. This is particularly true for the US and UK, which are now China's largest collaborators based on research article co-authorship. But China also wants to ensure that its home-grown talent can prosper, and can do so in China.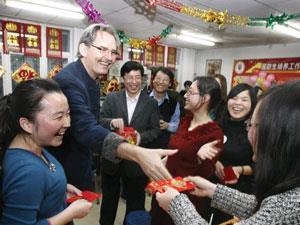 'China has grappled with the question of why Chinese who go abroad make great advances and win Nobel prizes, but those who stay in China do not. Even those who return to China under-perform compared to those who stay abroad,' says Siegel. He has ambitious plans to reform Tianjin University, to introduce an academic meritocracy in which the best ideas rise and all faculty members are encouraged to be creative. The teaching, too, is progressive, using inquiry- and problem-based learning approaches. But Siegel also wants to retain some tradition, particularly the high value placed on human relations that creates a strong sense of community.
Siegel hopes to recruit 80–100 new faculty during his five-year tenure as dean. 'The university goal is to internationalise the faculty and the student body,' he adds. Sichuan University is also looking to hire up to five non-Chinese faculty members in chemistry to offer a complete curriculum taught in English.
Fraser Stoddart, who is based in the US at Northwestern University, will soon support these changes as a visiting professor at Tianjin. 'The training of young people has to be at a global level and they've got to get a taste for the interactions that go on between different countries,' urges Stoddart. He feels all students should have the opportunity to spend time outside of their institution and country, in a competitive and supportive environment.
Indigenous innovation
China boasts opportunities for industrial chemists too. Gordon Lamb relocated to Shanghai in August 2013 to work as an advisor at the Castrol China Technology Centre. 'I was always interested in working abroad,' says Lamb. 'I had the opportunity to develop not only my own career but those of my colleagues in a relatively new team, which really excited me,' he enthuses.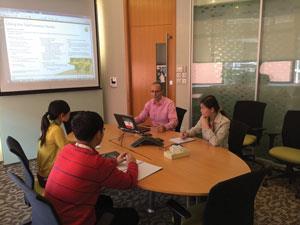 Relocating has brought his working day into the same time zone as his Chinese colleagues, and he is now more involved in local projects. 'There are still plenty of opportunities back in the UK, but for me this is a new challenge in a very interesting and fascinating country.'
Timo Hagemeister, R&D manager at Wacker Chemicals in Shanghai, moved east in 2011. Hagemeister joined Wacker in Germany in 2005 and made it clear from the start that he would be willing to relocate. After working as an R&D manager and a technical marketing manager, he was ready for the challenge when Wacker decided to open an R&D plant in China. The new plant was set up to meet the need for 'indigenous innovation' – a government term for home-grown technological and economic success. Hagemeister says his new role offers greater autonomy to create, as well as enormous potential for learning about new technologies, markets and culture.
'I wanted to work in a dynamic environment and take the responsibility to create new structures. China offered exactly these opportunities,' says Hagemeister. He likes the fact that his responsibilities seem broader than those in comparable positions elsewhere, and hopes that his breadth of experience and understanding of other cultures will serve him well.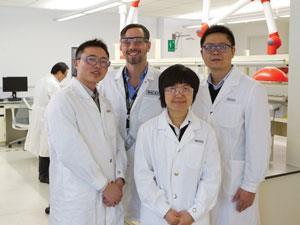 Wacker is developing Chinese talent for both R&D and management to better serve the local market, and one of Hagemeister's responsibilities is to coach his Chinese team members. 'It's amazing how quick people in China are responding, how easily they are adapting and how eager they are to learn.' Hagemeister adds that this means relatively few opportunities exist for non-Chinese workers, who account for just 1% of Wacker's Shanghai workforce, but he adds that 'local industries are expanding at a great rate, so if you are a chemist with skills and on-the-job experience you should be able to find plenty of job opportunities.'
Once you have secured your new job in China, there are still the practical aspects of actually moving. 'The first month was the most challenging,' says Chruma. With forms to be stamped, medical exams, and accommodation to find, the early days were draining. Unexpectedly, Chruma found almost everything is 'pay up-front', so most people must pay a year's rent before moving in. 'We are currently going through more challenges with visa renewals for my family as the government has recently strengthened the requirements,' adds Chruma. Hagemeister too faced a similar situation regarding the now-stricter visa approvals procedures.
Lamb recalls the move to China as a big step into the unknown. 'I think we worried too much,' he reflects, adding that he now feels life in Shanghai is straightforward and exciting. His children are also benefitting from a different culture and a broader learning experience.
Many of the expats talk of a relaxed pace, great food and good quality of life, but at times even the little things can take a lot of work. Chruma sums it up: 'The opportunities here, once you figure out how to harness them, are amazing.'