Ashley Ogden is the only female chemist and innovator at LINE-X, and hopes to inspire more women and girls to follow her into Stem
As a little girl, Ashley Ogden was often outside digging up dirt. She was always interested in rocks, archaeology, and figuring out how things work, but it wasn't until high school that her love of chemistry took root.
Ogden grew up in Elkmont, Alabama, US, whose population is only in the 500s. The course selection at high school was limited, but Ogden took every math and science class offered, and chemistry was by far her favourite.
'I had a chemistry teacher who was really cool,' Ogden recalls. 'Any time we had downtime I would ask him if I could go organise the lab.'
After high school graduation, Ogden pursued chemistry at the University of Alabama. The adjustment from small-town America to this large public university, with about 38,000 students, was significant.
Getting your hands dirty
'It was a big change for me,' Ogden says. 'I became a very small fish in a very big pond.' It was a wake-up call, and she had to work hard to earn her undergraduate chemistry degree in 2011.
'It was not as easy as I was expecting,' she says. 'I want people to know that you can still do this without just acing in all your classes.' Ogden struggled with her organic chemistry class in particular, although she excelled in labs. Eventually her professor, Kevin Shaughnessy, invited her to participate in some research that his group was conducting.
'Getting your hands dirty, seeing how the lab actually operates and not just seeing it on paper, for me solidified that … this is exactly what I want to do,' Ogden tells Chemistry World.
Unfortunately, she faced a lousy job market after graduation. After spending a few months working at a local Office Depot, a friend from university approached Ogden about joining him at Water Science Technologies, a chemical solutions provider for industrial water treatment. She worked there for over three years, running analyses on water that came from the oil and gas industry using techniques like autotitration, ultraviolet-visible spectroscopy, and inductively coupled plasma analysis. The company provided corrosion inhibitors, scale inhibitors and other products, and Ogden's job was to prove whether they were working properly. The job reinforced her love of analytical chemistry.
After a four year stint running analysis for a tungsten and tungsten carbide manufacturing plant, Ogden's desire to do research and development led her to accept a job at LINE-X in 2018, entering the automotive side of chemistry. The company specialises in protective coatings and spray-on bedliners to protect vehicles and equipment.
A senior product development associate at LINE-X, Ogden helps generate new products and applications for the company. She also oversees quality control at the lab where she works, in addition to being involved in colour matching and testing the physical properties of company's products – polyureas that are sprayed out of a high-pressure gun.
These products each have an isocyanate side and a resin side, and as they mix they become the polyurea that is sprayed onto a surface and cures to create a protective coating. Odgen and her team test all of the wet chemicals that come through their lab to make sure that they are in spec. They also ensure that the final product is performing as expected – checking, for example, how far it can stretch before breaking, and how long it lasts.
Navigating pregnancy restrictions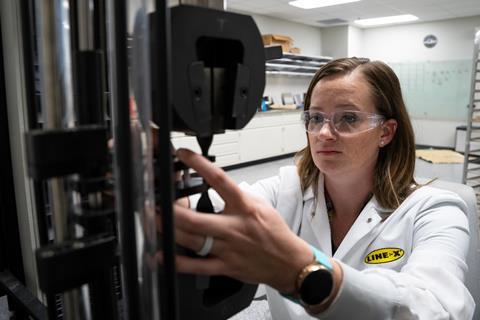 Ogden is the only female scientist on the team she works with in the lab. 'I've gone to conferences or trainings and looked around and realised I'm one of the only ladies there,' she says. 'Most of the time it feels more of an honour than a burden or hardship.'
As a woman in the industry, Ogden has always felt extremely supported. 'I almost feel guilty saying that because I know there are women in science who have dealt with a lot,' she says. With both of her pregnancies, she worked right up until giving birth. Her sons are now four months and four years old.
There are restrictions in the lab for pregnant people, including solvent exposure, but Ogden faced no real obstacles. 'We kind of shifted responsibilities when we needed to, like when it came to working with solvents and other dangerous substances, or picking up heavy buckets,' she recalls. 'Most of the time it wasn't an issue.' She was also able to pump milk every day at work for both children.
Ogden's work can be physically gruelling compared to researchers in academic labs. 'I am out in the warehouse pulling buckets, carrying heavy things,' she says. But she believes that it offers a more supportive and collaborative environment than universities. 'We're working as a team,' she continues. 'We are able to talk to each other and pick each other's brains, and we're coming up with things collectively.
Having found her niche, Ogden wants to remain at LINE-X and further herself as a chemist and an innovator. But more than anything, Ogden wants to inspire girls and young women to enter Stem careers. 'I want to speak to them and say, "Look, I'm doing this, and I feel like if I can do it, you can definitely do it."'