South Korea's vibrant metropolis is a hub for science, sights and spices
Where is it?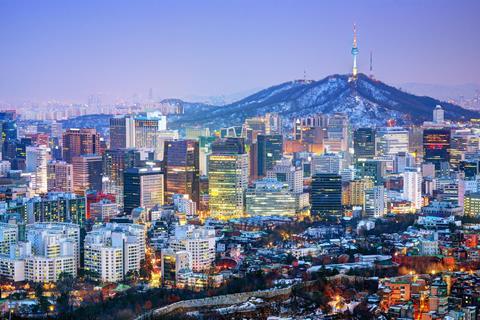 Seoul – officially the Seoul Special City – is South Korea's bustling capital and sits in the north west of the country. With almost 26 million inhabitants, the Seoul metropolitan area is the fourth largest in the world and contains three separate administrative districts: Incheon, Seoul and Gyeonggi-do. The city is well served by Incheon and Gimpo international airports, in addition to South Korea's high-speed rail network, the KTX, which offers fast and smooth travel the length of the country.
Why move here?
South Korea is world leader in technological development. The country boasts the world's fastest internet connection speeds, while wireless data can be accessed in all stations and trains across Seoul's subway network.
Samsung, Hyundai and LG are giants of the South Korean technology sector. These conglomerates, or 'chaebols', and others such as Lotte and Hanwha have varied interests across the chemical sciences. Nanomaterials and lithium-ion batteries are research areas that currently attract significant investment.
If you embrace the culture and learn the language you will enjoy it. It's very different in many respects to working in a western country, but that is also what makes it a really enjoyable place to live.

Edward McGhee, patent specifications editor, Y.P. Lee, Mock and Partners
To Seoul's west, Incheon has become a centre of biosimilar research and is home to Celltrion Healthcare. Hanmi Pharma and Samsung Bioepis are other major players in South Korea's burgeoning pharmaceutical and biotech industry. Further afield, Daejeon is the location of Daedeok Innopolis, a research and development hub comprising seven universities, sixty major research institutes and more than 1600 companies. Ulsan is the home of the world's third largest oil refinery and attracts an array of chemical companies and multinationals, including Solvay and BASF.
Crime rates are significantly lower than in countries with comparable levels of economic development, making South Korea an exceptionally safe place to live.
What's the downside?
While food and transport around Seoul are fairly cheap, the cost of living is still high. Huge demand means accommodation in the city is expensive and a deposit on an apartment can easily cost a year's worth of rent up front. Some companies will provide funds to cover their employee's housing deposits.
For newcomers, the language will probably be a hurdle. The Korean alphabet, Hangul, consists of 19 consonants and 21 vowels. Written down, letters are grouped into blocks, each representing a different syllable, and are then read phonetically. If you can get your head around this, then you'll be well on the way to enjoying your new life in South Korea.
How much will I earn?
According to the Organisation for Economic Co-operation and Development (OECD), the average annual South Korean salary is around ₩38,000,000 (£26,000). However, those working in highly specialised technology sectors can expect to start earning anywhere between ₩34,000,000 to ₩70,000,000 depending on their employer.
What else do I need to know?
South Koreans work hard and play hard. Seoul boasts a dazzling nightlife, with eating out a special part of the culture. Walking around the city, you can't help but notice the large groups of young Koreans enjoying a meal and washing it down with healthy glugs of soju – Korea's most popular alcoholic drink.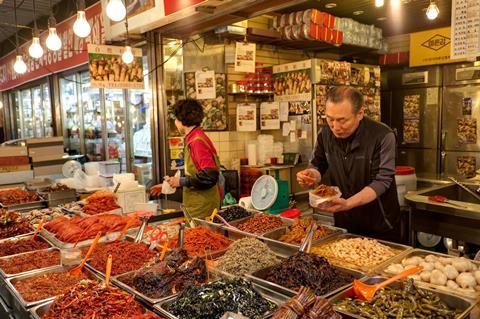 The country is a spice-lover's utopia. Most meals are served with a helping of gochujang, a potent chili pepper paste. Classic dishes include Korean barbeque (where marinated meat is cooked on a grill in the middle of your table); bibimbap (a traditional rice dish); and haejangguk (which translates literally as 'hangover soup'). Main meals are usually served with an extravagant array of side dishes, always including kimchi, Korea's famous fermented cabbage.
It is a fast-paced R&D area in Korea, because they are focusing on commercialising, not deep-fundemental study. It is very busy, but you'll get a good salary compared with other sectors.

Jaeha Myung, chemist, Korea Institute of Energy Research (KIER)
Korean New Year, Seollal, usually in late January or early February, and the autumn harvest festival Chuseok, are both major events in the South Korean calendar. Smaller businesses will close down for several days while people spend time with their families. During these periods, traffic across Seoul can be extremely heavy and the city's usually busy entertainment districts can feel very quiet.
Where should I go?
Hongdae is a lively area, popular with young, hip Koreans. It is crammed with places to eat and drink and crowds will often gather around buskers. Itaewon is another animated area and is particularly popular among the expat community.
For a trendier vibe, try Gangnam, the district brought to world fame by South Korean singer Psy. It has plenty of up-market shops and cafes and – more bizarrely – plastic surgery clinics. To get away from the hustle and bustle head to Bongeunsa, a serene Buddhist temple in the centre of the district.
For some more culture, take a tour around Gyeongbokgung, the main royal palace of the Joseon dynasty which dates back to the late 14th century. However, if 1970s communications towers are more your kind of thing, take a trek up to Seoul Tower. Perched on top of the Namsan mountain in centre of the city, this 236m high structure offers fantastic panoramas, giving visitors an idea of the mind-blowing scale of the metropolis.