Five tips for developing entertaining episodes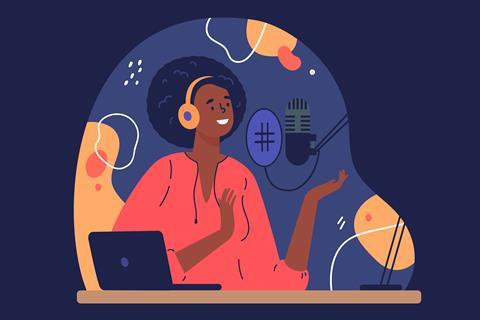 Many scientists who are passionate about science communication have jumped on to the podcast bandwagon. 'Podcasting can be very powerful because it turns dead time to live time,' says Chris Smith, the brain behind the Naked Scientists portfolio of podcasts. For example, one of Smith's Australian listeners enjoys The Naked Scientists podcast while dissecting fruit flies; it has turned a boring, repetitive activity into something entertaining.
If this inspires you start your own podcast, the pros in science and the media have a few suggestions for how to make it a success.
Get podcast ready
You need to first decide if podcasting is the right platform for you. 'As a podcast host or a YouTuber, you're selling yourself as a product,' says Darren Lipomi, a professor at the University of California San Diego. He runs a podcast called Molecular Podcasting with Darren Lipomi, which dives into professional issues concerning early-career researchers in chemistry and adjacent fields. As a podcaster, you directly talk to listeners and so you have to be comfortable with putting your voice out in the world. If starting your own podcast is too daunting, try working with existing shows first. This can also allow you to decide if this is a medium you want to invest your time in.
Know your audience
'The first question [you] need to ask is: who is this for?' suggests Smith, who is also a consultant virologist at Cambridge University's Addenbrooke's Hospital and Public Understanding of Science Fellow at the University of Cambridge. 'Because that will then determine everything.' If you plan to talk about the latest research to material chemists, you will probably delve into the technical details of studies. But if your podcast is meant to introduce 12-year-old kids to the wonders of chemistry in everyday life, you're more likely to keep the tone snappy.
Don't pick your audience based only on how much money or fame you think it will bring. 'If you go into it with a goal, "I want to make a smash hit", then that's obviously going to be a bit of a barrier. But if you're getting into it because you want to learn how to make podcasts, you think it's fun to make podcasts, that's a good reason to go into it,' says Elah Feder, a senior producer for podcasts at Science Friday Initiative. 'Make it for yourself first and foremost.'
Find and hone your voice
There are plenty of good science podcasts out there to learn from, so try introducing your audience to something new. 'A lot of people try to copy other people. That's good up to a point,' says Smith; for example, you might want to see what features of other podcasts appeal to you the most as a listener. 'At the same time, don't try and be somebody else, because they'll always be better than you at being themselves,' Smith explains.
It helps to get a few friends who fit your intended audience to listen to your episodes before publishing them – that can help you refine their tone and content, suggests Feder. 'They'll tell you what's boring, what's interesting, what's confusing, what's really working for them.'
Get help
You may come to realise that you enjoy some aspects of podcasting, but not others. Elissia Franklin, a chemistry postdoc at Silent Spring Institute in Newton in the US, has run The Research Her podcast, where she breaks down research related to health and wellness and promotes the work of Black women scientists, for more than two years. '[Audio] editing is so taxing. If you can get someone to do it, it definitely helps motivate you to keep going, because it's one less thing you have to think about that slows you from getting the episodes out,' says Franklin. By outsourcing audio editing work to a podcast editor, she can now focus on the more creative aspects of the process that she enjoys, such as reaching out to guests and designing the format of episodes.
Connect with your listeners
There are a plethora of podcast hosting services to choose from – as a general rule of thumb, go for something that allows you to publish your show on all the major channels such as Spotify, Google Podcasts, and Apple etc., so you can reach a wide audience. Lipomi uses anchor.fm because 'it is user friendly and automatically publishes on the most popular platforms.'
Then, start thinking about how to build a relationship with your audience. Social media engagement can seem like additional work, but it may lead to new connections and even collaborations. Michelle Dang, an associate producer at Science Vs, a Spotify podcast produced by Gimlet Media, says that pictures of scientific experiments and videos of animals really resonate with Science Vs.'s fans on Instagram. 'You see a lot of scientists who are active on those platforms," says Dang, referring to Twitter and Instagram. 'So, it's a great way to not only promote the show, but also to promote [those] other scientists by tagging them.' You can also use social media to ask your listeners what they'd like you to cover on the show. And of course, it's a great way to receive positive feedback from your audience and fuel your motivation to keep the project running.