Think about the skills you developed during lockdown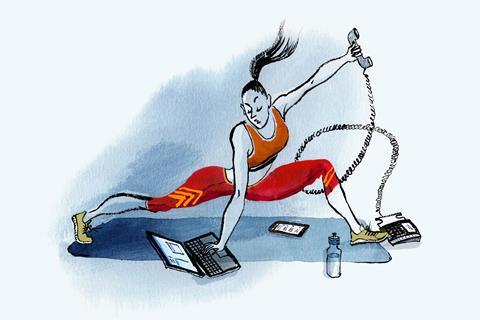 'How have you stayed motivated during the Covid-19 pandemic?' 'How have you used your time while on furlough?' In the Royal Society of Chemistry's careers team, we are hearing from members that questions like these are being asked at job interviews. These are tough questions in what has been an incredibly challenging time.
Interviewers ask these types of questions to probe your mindset and motivators, to learn how you deal with uncertainty and how you problem solve. For many of us lockdown has been about surviving, learning to live in unpredicatble circmstances and accepting what we cannot control, which makes answering these questions difficult and potentially emotional. Like any other interview question, preparation will help. Here are our tips for navigating these questions.
Focus on skills
When giving CV advice we talk to members about identifying the skills behind the tasks they complete. Think about what you've been doing over lockdown, and what skills or knowledge you used to make that happen. You don't have to have written a book, started a business or mastered Python – anything you've done over the past few months is likely to have helped you develop new skills without you realising it.
For example, maybe you've been redeployed to a different role or have had to reinvent what you do overnight. Or without access to your lab, you've had to find ways to keep your research going, planning your next round of experiments or finishing writing up the last round. This shows flexibility, organisation, resilience, creativity – and of course, problem solving.
Caring responsibilities will also have helped you build skills that are valued in the workplace. Teaching requires the ability to break down and communicate topics and concepts into engaging bite size pieces that children can understand and learn. You probably also had to learn how to communicate and teach in new ways, listen to your audience, take on board criticism and be creative to engage them with learning. You may have also developed new levels of patience! All of these skills will be helpful when working and communicating with colleagues, customers and different audiences.
During lockdown, performing simple acts of kindness like cooking for a neighbour, donating to a food bank or volunteering kept many of us going. Practising kindness towards ourselves and others is an underrated career skill. Kindness helps build rapport, trust and stronger professional relationships, leading to more successful outcomes, higher levels of participation and a more enjoyable working atmosphere. Being empathetic and balancing how much support you provide, understanding boundaries and how to comfort or calm someone who is upset, overwhelmed or anxious – particularly without being in the same room as them – is difficult and a skill valued by employers and managers who care about workplace wellbeing.
Even being able to say you kept going or you asked for help demonstrates resilience in the face of overwhelming global uncertainty and fear, and that's a big deal. Perhaps you've learnt how important it is to prioritise your own needs by saying no to another group call or quiz, an unrealistic work deadline or by asking a colleague for help. This demonstrates time management, self-assurance and an understanding of boundaries.
Changing direction
Lockdown has given many of us time to reflect on what's important, which may mean you are now considering changing career, role or research area, or relocating. Showing how your lockdown experiences have helped you make a change or clarify your career goals is powerful. Being able to talk confidently about how a job fits with what you want shows employers that you are a serious candidate who is likely to accept the role if it is offered; you understand the role and what the employer is about, and you know you want to be a part of it. Employers want people who are motivated, reliable, able to reflect on experiences, and importantly, who are invested. They can train you in GC-MS but they can't make you turn up every day, do your best, or care about what you do.
Return the question
Asking how the company and that manager have looked after their staff during the pandemic is a really good question to ask at the end of your interview. The answer can be very telling about the type of employer they are. It is a good way of understanding how flexible, supportive and accommodating they are, and if their goals align with your priorities and values. With the future continuing to look uncertain, choosing a supportive employer who values employee wellbeing is worth holding out for, if possible.
The Royal Society of Chemistry Careers team offers members online career consultations, CV reviews, professional development advice, redundancy support and guidance for anything career-related. Email careers@rsc.org or visit rsc.li/careers