Cesar Vega has united his love of food and science in his career at Mars. But he is also on a mission to teach the science of cooking, as he tells Emma Davies
Cesar Vega closes his eyes and casts his mind back to his mother's kitchen in Mexico. It is a vivid memory filled with the intense scent of finely chopped onions sizzling in hot oil. 'That aroma is 100% childhood,' he laughs. Vega's love of food and enthusiasm for science have since carried him through a Masters in ice cream research and a PhD in dairy emulsions, not to mention a stint with Heston Blumenthal.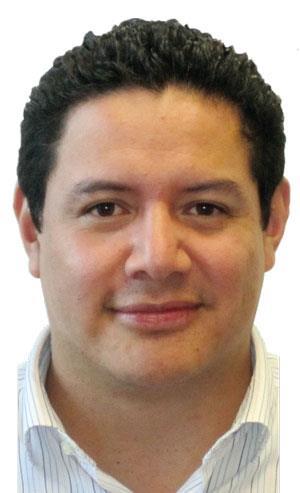 Born in Querétaro, Mexico, Vega has been interested in cooking for as long as he can remember. He wanted to go to culinary school but realised that his parents could not afford it. 'I also realised that I was good at chemistry,' he recalls. So good, in fact, that he represented Mexico in the chemistry Olympiad.
Vega opted for a BSc in food engineering. There, a professor of dairy chemistry called Jaime Valencia had a strong influence on him. 'You meet these people in your life that really make a difference,' he says. In particular, Valencia had a passion for ice cream. 'One day with another student we got cracking eggs and making custards – that was the beginning,' he says.
Oh Canada
Part of Vega's degree included an exchange programme with the University of Massachusetts in the US, but the 'real change' came during a second exchange with the University of Guelph, Canada. There, the day before he returned to Mexico, he got chatting to a professor of food chemistry, Doug Goff, curious to know if any scholarships were available for his ice cream course. They struck up a friendship that lasts to this day.
Back in Mexico, Vega finished his degree and was offered a job as a scientist at P&G, working on a range of global products. Yet the lure of food science proved difficult to ignore and before he knew it he was back in Canada, studying basic patisserie and cuisine at Le Cordon Bleu Culinary Arts Institute in Ottawa.
Then, at just the right moment, Goff offered Vega a Masters looking into how milk protein composition affects the splitting of soft-serve ice cream. There, Vega also met his future wife, who was studying for her BSc, and with whom he now has two children.
Dippin' Dots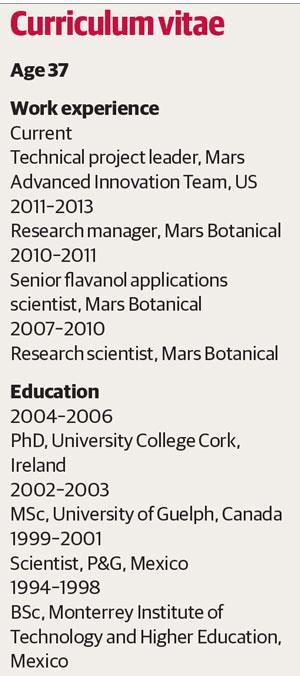 Vega launched straight into a PhD at University College Cork, Ireland, on spray-dried emulsions, with research periods in Canada. He was sponsored by US company Dippin' Dots, which sells tiny beads of cryogenically frozen ice cream, and spent some time working on product development for the company.
Vega was one of the lucky few that manages to finish their PhD early and, with time on his hands, he obtained an internship at Heston Blumenthal's restaurant The Fat Duck in England. There, he learned the innovative lab-based cooking techniques that were so cutting edge at the time.
Vega then headed to Mars, where he started work as a research scientist, studying interactions between polyphenols in cocoa and proteins. He has since moved out of the lab into managerial roles, and in July this year, he became technical project leader with the Mars Advanced Innovation Team. For this he will soon be moving his family to the Netherlands.
'I love science and I love to talk about what I do,' says Vega. He relishes the challenge of communicating science to non-scientists, whether they be colleagues in marketing or finance, or the general public, and he has a personal mission to spread 'better cooking through science'. He recently edited a book called The kitchen as laboratory: reflections on the science of food and cooking and has written about food for publications such as Scientific American. He is now slightly scornful of the flashy cooking techniques that were once so popular, often involving liquid nitrogen. 'It's not about the show,' he counters, 'it's about understanding mechanisms and using them to your advantage to promote better tastes and better textures in the kitchen.'
Vega still keeps up with ice cream research, largely through long chats with Goff. He takes great pleasure in explaining the beautifully complex science of ice cream to people and has also developed videos for YouTube describing aspects of ice cream. The videos are aimed at helping people to visualise the structure of ice cream. 'Visualisation is very important. I learn by looking at things. I need to see the big picture.'