Data, knowledge of US culture and a LinkedIn profile are all essential for job applications
How long should my résumé be?
The preferred length for US résumés is two pages. Many recruiters access applications and résumés on mobile devices, so lengthy documents make it hard for a recruiter to quickly see what you offer.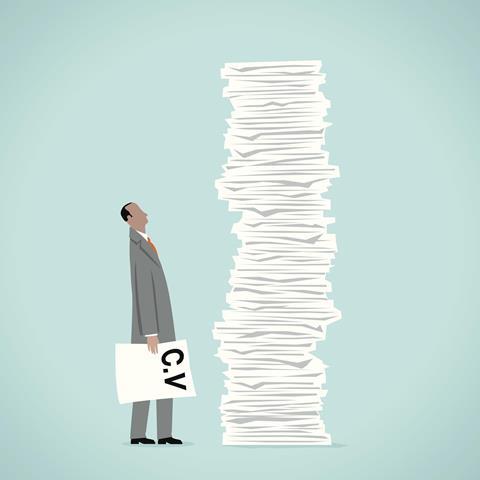 Photos are not customary. However, LinkedIn is incredibly important for a job search in the US: recruiters, hiring managers and referral partners will investigate your LinkedIn profile and compare it with your résumé. As a bare minimum, ensure that your LinkedIn profile shows a professional headshot and that your positions, job titles and dates align.
Candidate management systems (programmes for employers and recruiters to manage and select job applications) are commonly used. The latest thinking by the Career Thought Leaders' Consortium is that Word files are more easily accepted by these systems than pdfs. However, you should always follow instructions – if they ask for a pdf, then that's what they want.
How should I structure my CV?
The order of the sections very much depends on the stage of your career. Ask yourself what information is the most relevant. The past 10–15 years are the most important, so focus on them and elaborate on your achievements in this time frame; only provide basic information about positions you held before then (unless it is particularly relevant).
How much information should I include?
Do not include information like your date of birth or marital status. It is also becoming more common in the US to leave the full postal address off résumés because of the risk of identity fraud; instead, you should include your city or region so the hiring manager can see where you are based and assess potential relocation costs.
Foreign applicants should include information about any work permits, green cards or the status of your visa application to increase the chances of getting an interview.
If you are at the beginning of your career and you do not yet have much professional experience, it is important to include hobbies and activities such as volunteering and travelling. It gives employers a well-rounded picture of you as a candidate. As you progress in your career, your interests and past times become less relevant. Instead, your track record of achievements, experiences and accomplishments will speak for themselves.
What else should I consider?
Résumés for industry are heavily achievement-driven in the US – you need to provide clear evidence of the results you provide and the things you accomplish, in a tangible, numerical way (eg growth of sales and income; cost savings made; size of budgets). It is even common to show these accomplishments visually, in the form of graphs or diagrams, to emphasise your major achievements.
If you are coming from a foreign country, any exposure to American culture, lifestyle, sports or business will be of interest to a US based employer; cultures can be very different and not everyone adapts easily – any previous exposure means there is a higher chance that you will settle in more easily and stay.
For more information on US-style résumés, the best resource is Modernize your resume by Wendy Enelow and Louise Kursmark.
How to tailor your CV for different countries
1

2

3

Currently reading

Impress with an American-style resume

4