Nina Notman explores the performance-based communication competitions turning researchers into raconteurs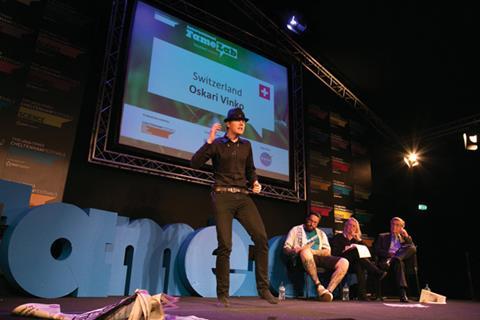 If the value of a competition can be judged by the successes of its alumni, FameLab might be considered high value indeed. In 2005, space scientist Maggie Aderin-Pocock reached the final. She is now a rising star of science communication, presenting top BBC documentaries such as The Sky at Night and its preschooler variant Stargazing, while also working as a researcher at University College London. 'And she didn't win, so that gives you an indication of the high quality of the entries we get,' says Tim Slingsby, one of the co-ordinators of the competition.
FameLab, often described as the scientific version of the X Factor, was developed by Cheltenham Festivals, a charity that runs a week-long science festival each year. (It also runs jazz, music and literature festivals.) 'Cheltenham Festivals set up FameLab to identify, mentor and train the next generation of science communicators, basically so they could always guarantee festival acts in future years,' says Slingsby.
Science centre stage
After a couple of years, FameLab caught the British Council's eye and a licensing agreement led to the competition going global in 2008. This year, the competition has run in over 25 countries. 'Quentin Cooper, who has been the compère of FameLab from the very beginning, often says that it is growing faster than the [football] world cup,' Slingsby adds. The only country outside the UK with a FameLab competition not run by the British Council is the US, where Nasa takes charge and the competition entrees related to 'exploring Earth and beyond'. In all other countries, entrees must fall into the categories of STEMM: science, technology, engineering, maths or medicine. To date, over 5000 people have taken part. Key to FameLab's success is its simple design. The participants – aged over 21 and working or studying in a STEMM area - give three minute presentations, which should be both unique and entertaining, on a scientific topic of their choice. The presentations are followed by a couple of minutes of questions from a jury comprising established science communicators, including some FameLab alumni, such as Aderin- Pocock. PowerPoint is not allowed, but props are – provided they can be easily carried onto the stage. 'The entries are judged entirely on content, clarity and charisma: the three Cs of FameLab,' explains Slingsby.
This year, FameLab UK had 18 live heats and eight live regional finals. The winners of the regional finals then attended a two-day science communication masterclass ahead of the UK grand final. (All the national competitions followed a similar format. The winners of the national competitions then attended a mini-masterclass, followed by the international semi and grand finals at the Cheltenham Science Festival in June. This year, the UK representative was Emer Maguire, a clinical anatomy masters student at Queen's University Belfast, whose topic was the science of kissing. The international winner was Oskari Vinko, a Finnish student working at ETH Zurich in Science centre stage Switzerland.
Obviously, it's more difficult for the participants for whom English isn't their first language. 'We are very conscious of making sure there isn't an unconscious bias towards native English speakers,' says Slingsby, and so far the winners have been spread evenly in terms of geography.
After the competition, many of the participants continue working with Cheltenham Festivals and the British Council on a range of science communication projects, by acting as role models in STEMM education programmes, for example. The data show that 92% of the participants stay within a STEMM career and 81% of these continue to do some science communication activities after going through the FameLab programme, says Slingsby.
The alumni also act as unofficial advocates for the competition in future years. 'FameLab is promoted mostly through word of mouth through past participants,' Slingsby says. Direct marketing through universities and TV and radio campaigns are also employed. It isn't just participants they are reaching out to, but audiences for the live events and financial backers too.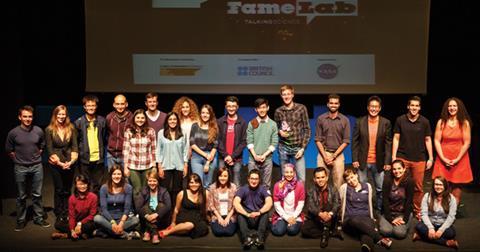 PowerPoint permitted
For chemists in the US who may not feel drawn to the spacethemed, Nasa-run FameLab, a number of similar (but smaller scale) competitions have sprung up in recent years. These include America's Science Idol, sponsored by the National Science Foundation, and the Chemistry Champions Contest (ChemChamps) run by the American Chemical Society.
To enter ChemChamps, participants – who must be 35 or under but can live anywhere in the world – submit a two to three minute video describing their research. The second round involves videos describing a chemical element. Successful applicants then progress to live semi and grand finals. As with FameLab, science communication coaches help the participants hone their presentations before the live finals. But unlike with FameLab, PowerPoint presentations are permitted and the judging process enlists the assistance of an online audience. 'The final was broadcast online and people voted through Twitter and text messages, American Idol style,' explains Jennifer Novotney, the 2014 ChemChamps winner.
'I love science communication and my dream job would be to be the next Bill Nye [the science guy],' she says. 'ChemChamps seemed like a really great first step.' Novotney has just graduated from her organic chemistry PhD at Cornell University, and will shortly take up her first full-time science communication role at the MIT museum, where she will set up hands-on activities for the museum's visitors. Throughout her PhD, Novotney participated in a variety of science communication activities, including an outreach project running hands-on activities for teenage girls. While she doesn't think winning the ChemChamps completion influenced the interview panel's decision to hire her, 'it really helped clarify that this was the type of career I want'.
Kenny Webster, head of learning operations at the UK Science Museum, agrees that entering these types of competitions doesn't necessarily give researchers a foot in the door when they try to make the leap to a science communication job. Webster, who in a previous role ran the FameLab UK heats in Birmingham, says that none of the staff at the Science Museum had taken part in FameLab when hired. 'If somebody was coming for a job here, having done FameLab would be looked upon favourably, but only in the context of various other forms of science communication and public engagement,' he says.
Of course, as Slingsby explains, the vast majority of FameLab participants stay in active research and keep up science communication as a kind of side business. The science communication environment has changed significantly in the past 10 years, says Webster. 'Lots of the people who now go through FameLab will carry on at university and will be supported to do their science communication at the university through various different initiatives.' It used to be that to excel at science communication you needed to leave academia and join a science museum or the equivalent, he explains. Furthermore, to succeed in academia, science communication experience is increasingly important. Research Councils UK, for example, now has a clear drive to ensure public engagement is embedded alongside the research the UK's research councils fund.
Scientific dance offs
As well as offering wannabe scientists and science communicators valuable media training and a platform from which to shine, these competitions are indisputably enjoyable to watch and participate in. Most amusing of all must be the Dance your PhD contest sponsored by Science magazine. To enter, participants must interpret their PhD thesis in dance form. Cue a dancing scientist in a sumo suit explaining reduced fat levels in mayonnaise and a slap-stick style dance describing research to develop thermally conductive polymers. 'Sometimes they are beautiful dances, but very often they are funny,' explains John Bohannon, US-based contributing correspondent for Science, who founded the competition and has run it for the past seven years.
The first year, the competition was a live event at a party at a biomedical institute in Vienna, Austria, but since then it has been entirely video based. The submitted videos are judged by a panel of scientists and dance experts. 'It's a truly international competition,' says Bohannon. 'Most of the entries [around 100 per year] come from North America and Europe, but the scientists themselves hail from all over the world.'
The key to the competition's growing popularity is that, as well as being amusing, it disseminates scientific knowledge in a novel way. 'If it were just fun and funny then it would peter out – once you tell a joke once it's kind of done. I think the reason it endures is that you actually get to learn a lot of science while watching these dances,' says Bohannon.
In 2010, Bohannon contacted the scientists who had taken part in the Dance Your PhD contest during its first couple of years to ask if and how participating in the contest had affected their lives. The results were resoundingly positive: some of the participants felt it helped with job applications (when potential employers had found the video online), while others felt it helped them re-examine the significance of their research. No-one reported any negatives.
Write all about it
For those who prefer writing about science to explaining it on stage, there are several competitions that can help scientists take their first steps in the field of communication. Chemistry World runs an annual competition in which entrants write 800 words on a specified topic – last year's was 'science and art'. The top 10 progressed to a second round in which the entrants presented their work in a format other than a piece of prose. Winner Paul Brack wrote about the first synthetic pigment, Egyptian blue, and its rediscovery by Humphrey Davy. The 2015–16 competition is now open and anyone without professional experience of science communication is permitted to enter. The five finalists will have the opportunity to present at the Royal Institution's Faraday theatre and the winning entry will be published in Chemistry World.
This year, the University of the West of England's science communication unit launched a new science writing prize in conjunction with BBC Focus magazine. Anyone who isn't already a professional writer is eligible to enter, by writing a 700 word article on the theme of 'The science that will transform our future'. Again, the winning work will be published in the magazine.
Nina Notman is a science writer based in Salisbury, UK