In the current economic climate, choosing the right university course and making the best application is more important than ever, writes Robert Bowles
In the current economic climate, choosing the right university course and making the best application is more important than ever, writes Robert Bowles
With numbers of applications to UK universities at an all time high (570 000 applicants at the last count), and in the wake of the recent recession, it is getting harder and harder for students to get themselves noticed and secure places at their preferred universities.
Despite the government's announcement of extra funding for 20 000 places, which was ring-fenced to pay for places for students wanting to study science, technology, engineering and medicine (Stem) subjects, demand for student places in the UK hit a 10-year high in 2009 (see Chemistry World, March 2010, p7). This included a 15 per cent increase in applicants over 25 years old from 2008 to 2009 as the financial crisis prompted many to return to education.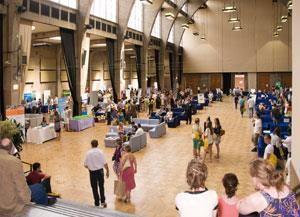 While the number of applications for 2011 can't be predicted, the trend of oversubscription for popular courses is likely to continue, with students looking to university study as a safe harbour to ride out the rough seas of the economic downturn.
ChemNet (the RSC network for post-16 chemistry students) members looking to start a chemistry course in 2011 can get a head start by talking to admissions tutors face to face at ChemNet's Meet the Universities (MTU) event to find out what tutors are looking for from applicants. MTU brings together in one place representatives from the UK universities that offer chemical science degree courses. Universities get direct access to committed motivated prospective students with a real interest in their subject and many are coming back for the fourth time, having been involved from the first event in 2007.
Whether you're applying directly from school or college, or looking to return to your studies following a career break or career change, this event lets you access the crucial information you need ahead of the application process, by talking to university chemistry department staff face to face, rather than by email or phone or scouring university websites. The event offers applicants an unparalleled opportunity to get the low down on the university application process before they start filling in forms. And they can get the information they need to impress. In the words of one of last year's students who wrote to thank the event organisers: 'it is so hard knowing where to start and this event was so helpful.'
Narrowing down options ahead of starting the university application process is essential. The UCAS (Universities and Colleges Admissions Service) website currently lists 476 courses with chemistry in the title and students are only allowed to list five on their application. MTU offers students the chance to start whittling down their lists of courses and universities, allowing them to focus in on the ones which interest them the most. Prospective students can then research these in more detail before the main UCAS deadline in January. Attending the event also offers students the chance to explore their options in far more detail than is possible by researching via the internet.
Last year over 400 students and 34 universities took part in MTU. This year's event, to be held on 3 July, will take place at the newly refurbished Chemistry Centre, in the RSC's central London-based Burlington House. The Chemistry Centre, that opened earlier this year, was designed to celebrate chemistry past, present and future.
The event is free for ChemNet members. Non ChemNet members who would like to attend can do so for ?15 with ChemNet membership for one year included. Register online at Chemnet website.
Robert Bowles is ChemNet's coordinator