With so many chemistry courses on offer, it makes sense to get some first-hand experience before you make your choice, says Robert Bowles
With so many chemistry courses on offer, it makes sense to get some first-hand experience before you make your choice, says Robert Bowles
Picking the right chemistry course and university has never been more bewildering for school and college students. There are now myriad 'Good University Guides' and league tables out there, and more advice websites than you can shake a mouse at - all claiming to have definitive information about which university and which course is the best.
Of course, the reality of making that decision is a bit more complicated than looking it up in a table. The sheer number of universities multiplied by the number of different courses can have all but the most focused wondering which way to turn.
RSC ChemNet can help potential chemistry students to find their way through the university maze, particularly with our annual Meet the Universities (MTU) event.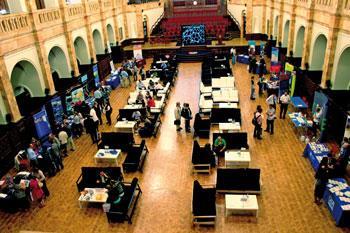 ChemNet is the 16-18 age-group network of the RSC, aimed at encouraging more students to consider a career in chemistry. MTU is run to help to achieve that goal. This year, the event is being held at the Royal Horticultural Halls in London on 5 July, and brings UK universities offering chemical science degrees together with ChemNet members who are considering studying chemistry at university.
The event is designed to be informal, offering potential students (and often their parents too) a real chance to question university representatives at length about their courses and what they offer to students.
Weighing the options
Visitors to MTU also get the chance to attend a typical undergraduate chemistry lecture; hear seminars on what it's like going to university as a fresher; and get advice on the universities admissions process directly from UCAS (the UK's Universities and Colleges Admissions Service). Whilst the event is not designed to replace the need for a visit to a university's own open day, it can help candidates to narrow down their options in advance.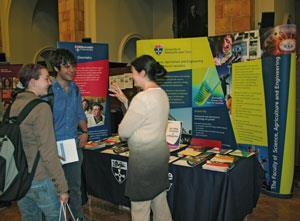 Although the event is primarily for ChemNet members, universities get a lot out of it too. They are able to chat with potential students at great length. Comfy sofas mean that the discussions often go on for some time. The universities who attended last year were delighted to be able to spend up to 30 minutes talking to potential students, much longer than the 5-10 minutes available at most other events. This gives the universities a real chance to get their message across to potential students.
Another advantage that MTU has over other events is that it is restricted to universities and students interested in chemistry, and other chemical sciences. This means the students can be much more focused, and know they are talking to experts on the university's chemistry course.
Robert Bowles is ChemNet's coordinator
How to get involved
The 5 July event is free for ChemNet members, parents and teachers. Non-members who would like to attend can do so for ?10, which includes ChemNet membership for one year. Register online.

All places to exhibit have now been filled. If your university has not registered then contact us now to get on the waiting list. Call Sue Godfrey on 01223 432296 or email.