Science Comedian Brian Malow on cracking wise about chemistry
'I wanted to be a scientist or a rock star. Why not both? Scientist by day, rock star by night – like Albert Einstein and Freddie Mercury. Without the sexual connotations … of Einstein.' Brian Malow can't resist cracking a few jokes, chatting with relaxed ease as our conversation flits between the world of stand-up comedy and science communication.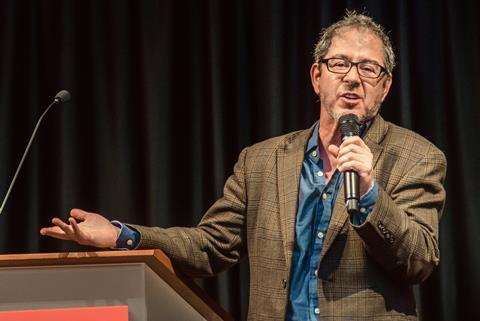 The self-styled Science Comedian, for two decades Malow has made a name for himself mixing comedy with raw geekiness, infusing his routines with the latest research and a classic mix of irreverence and observation. However, he has no formal science training. 'The number one question I get asked is whether I'm an astronomer,' he laughs. 'It's just the set up to a joke: "I used to be an astronomer – but I got stuck on the day shift."'
Instead, Malow's act stems from his earliest passions. Growing up in Houston, US, the earliest vinyl albums he owned were by George Carlin and Richard Pryor, while he read the hard sci-fi tales of Isaac Asimov and Larry Niven. Initially, he went to college preparing for medical school, but caught the comedy bug after he tried stand-up in graduate school. 'I had no stage experience,' he remembers. 'I was pretty shy – a kid who got up in front of class and his voice would shake. But my third time on stage was for the first round of a talent competition. And I kicked ass.'
Inevitably, Malow found that his jokes were entwined with geekiness. After years honing his craft ('if you can't handle rejection,' Malow counsels, 'don't do this') he stumbled on the phrase 'Science Comedian' and carved a niche for himself. Even so, making it in show business was tough. 'It's a struggle, like a microcosm of anything there is a disappearing middle class. There's a lot of starving artists and the super-wealthy. There are comedians out there who you've never heard of that make a decent living, but mostly there are megastars that fly private jets and make as much money in one night as you make in a year.'
The answer, Malow found, was branching out into science communication, producing videos for Time and conducting interviews for a host of clients, including the Lindau Nobel laureate meetings. 'What's interesting is that I did not choose to go into science, but I've met Stephen Hawking, Brian May and Elon Musk.' It's also led to some strange gigs. 'I was once asked to do a comedy show to go along with an exhibit on infectious diseases.'
Today, Malow's resume includes both education and writing. However, he stresses, he is first and foremost a comic. 'One time a woman asked if I taught children about science using comedy. I said "No, if you're geeky, I'll make you laugh." It's very different. Sometimes I'm not teaching you or informing you of anything. Sometimes it's rational, sometimes it's absurd. But I like to think of it as rational comedy for an irrational planet.'
Brian Malow: Just Add Gravity! will be appearing at the Backyard Comedy Club in London, UK on 1 July.