Combining chemistry with a passion for textiles has taken Fern Kelly on an unusual career journey spanning the globe. Rachel Brazil investigates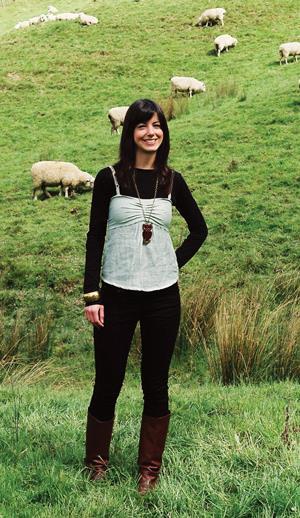 The next time you sit on a train or a bus, you may be sitting on textiles designed by Camira Fabrics, whose director of design is PhD chemist Fern Kelly. Camira Fabrics is the biggest producer of commercial fabrics in the UK. In 2014, only six years after completing her PhD, Kelly joined the West Yorkshire company, bringing her key expertise in intelligent functional textiles to industrial application. Now, she leads the design and technical teams at a company employing over 650 people and turning over £70 million per year.
Kelly, originally from New Zealand, says she was always good at both science and art but chose to study chemistry at Victoria University as an undergraduate. She had considered a career in forensic science but before taking that route realised the reality was far from its TV portrayal. A chance placement in the laboratory of Jim Johnston for her third year undergraduate project changed everything. 'It was the first inkling that I was going to be able to combine my interests,' she explains.
Dyed in the wool
Kelly went on to complete a PhD in Johnston's lab, designing woollen textiles functionalised with gold and silver nanoparticles. The particles act as colour fast dyes, and in the case of silver, impart antibacterial properties. 'At the time, the wool price was very low, so it was a great opportunity to add value to a cheap natural material that we have a lot of in New Zealand' says Kelly. Her PhD work is now being commercialised through Johnston's start-up Noble Bond, under the brand name NgaPure.
Kelly says that moving to Europe after her PhD always seemed like a necessary step in order to advance her career.
But moving to France was a challenge because of the language. 'Even when my French got to a high standard, it was still difficult to enter a conversation as I wasn't fluent.' During her four years at the Ecole Nationale Supérieure des Arts et Industries Textiles (ENSAIT), near Lille, Kelly worked on conducting polymer materials to create colour changing textiles as well as textile pressure sensors for structural health monitoring of composites in vehicles.
In 2013, while in France, Kelly started developing a fashion­focused sportswear range, now under the label 'Lomie', based on the functionalised merino wool created during her PhD. 'Wool is this incredible textile,' she explains. 'It's a smart textile itself: it's a natural fibre, it's thermo-regulating, it's got wicking properties and it's biodegradeable'.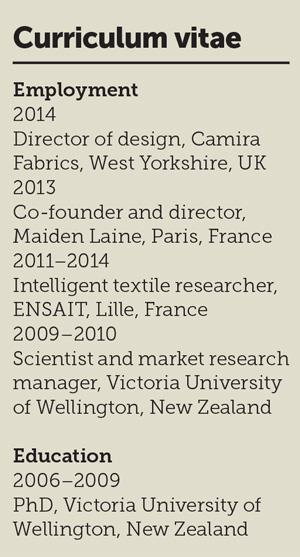 Kelly has no formal business training, but says one of her strengths is not being afraid to seek help or talk to people.
An innovative company
Her current role came about after she was contacted by Camira through LinkedIn. 'I looked at the role and thought "This looks like my dream job", but it was a bit of a long shot.' Fortunately, she was able to convince the company that she was the right person. By a happy coincidence, Camira had independently become involved in developing NgaPure antibacterial wool textiles, so she is now continuing the final commercial development of her PhD work. This involves working extensively with designers without her scientific expertise, and Kelly often needs to explain new technology. 'The challenging thing is to explain things simply,' she says. Coming from a chemistry background, there is also the challenge of understanding the language of design. She says you need to remember to 'use the correct language required for different groups of people'.
Having only been in her current role since December 2014, Kelly is looking forward to making her mark at Camira. The company is known for its innovative culture, and she says a key challenge is to embrace innovation in production and processing methods to improve the textile industry's sustainability and environmental impact. 'That's where there needs to be a big focus.'
Kelly acknowledges she is lucky to have found a career that satisfies her passion for both chemistry and design. Her advice to others looking for similar careers is to 'be inquisitive'. 'Don't be afraid of talking to people and asking questions – you make your own opportunities'.
Rachel Brazil is a science writer based in London, UK