Practical experience and no student debt make vocational training an enticing career option
With student debt spiralling and ever-increasing competition for graduate jobs, apprenticeships offer an appealing alternative to university for prospective chemists in the UK. The highest level schemes now allow apprentices to study for full honours science degrees while in paid employment. Not only do apprentices gain a debt-free BSc, but also invaluable experience and a likely job offer.
With a significant cash injection and moves to simplify the apprenticeship structure, the number of apprentices is forecast to increase in 2017, particularly in science and engineering.
Most of the increased investment will come from a new apprenticeship levy, which will be paid by all employers with an annual pay bill exceeding £3 million, from April 2017. With the extra funds, the government intends to double its investment in apprenticeships by 2020 compared with 2010 levels. With current investment at £1.5 billion per year, the levy should take the total cash pot for apprentice training to £2.5-3 billion, estimates Richard Holliday, vocational skills programme manager at the Royal Society of Chemistry (RSC).
Alert to apprentices
'I think more and more people are starting to think: is full-time university right for me?' says Holliday. 'University is not necessarily right for everyone. Some people really excel through hands-on learning.'
However, there are currently only a few hundred people on advanced apprenticeships as lab scientists. 'People still think of apprenticeships as just for trade, but they are not. Plenty of companies offer higher apprenticeships,' says Stuart Penny, operations director at High Force Research, a chemical synthesis company based in Bowburn, County Durham.
University is not necessarily right for everyone. Some people really excel through hands-on learning
Training provider CSR group, based in Milton Park, Abingdon, has compiled information on apprenticeships by sector area. 'For business administration and law, at its peak in 2013, there were about 165,000 learners nationwide,' says Rob Green, CSR's director. 'If you look at science and mathematics, at its height there were 370 learners nationwide.'
Schools and colleges, as well as industry, have tended to be 'blind' to apprenticeships in science, he adds.
However, there is hope that the levy will improve the situation. It will be 'a bit of a game changer because it will really focus people's minds,' predicts Holliday.
CSR expects the levy to increase the number of apprentices requiring training and plans to double the size of its assessment workforce in 2017–2018. 'People who haven't yet switched on to apprentices are going to think: If we are paying for them, we should start to utilise them,' says Green. 'We are starting to market ourselves now, travelling up and down the country to science parks and large organisations and SMEs, making them aware of the value of a scientific apprenticeship.'
Working life
Apprenticeships are a three-way relationship between the apprentice, the employer and the training provider, college or university. All apprentices must have employment contracts. 'It's not work experience; it's work,' says Holliday.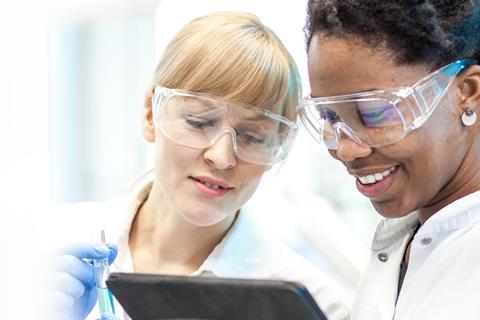 As part of the reform, a new 'digital apprenticeship service' will allow employers to access funds for training as well as select a training provider. Smaller employers that do not pay the levy can also obtain funding to cover up to 90% of training costs.
The government is providing an 'uplift' for employers of science, engineering, technology and maths (Stem) apprentices, where training generally costs more.
Although most people take up apprenticeships in their teenage years, changes mean that full funding will be available for all ages. In the past, only those aged 16–18 received full training funding.
Rebekka Willcocks became an apprentice at flexible solar panel company Eight19, based in Cambridge, after her A-levels. She is paid a salary and has half a day per week to study for a chemistry degree at Manchester Metropolitan University. Eight19 receives a grant from the RSC, which offers up to £2000 per annum to support employers than have not had apprentices before.
Willcocks works hard, fitting in the recommended 14 hours study time per week. She does most of her degree through distance learning, with mentors at Manchester adding new work to the system every week. She also has access to webinars given by lecturers and submits her work online. Once a year, the distance learning students spend a week together at university, catching up on practical work. 'It's good fun but intense. It's a year's worth of uni experience in one week,' she laughs.
Willcocks feels fully supported at Eight19 and is delighted with the fact that she is treated as a standard employee, 'pretty much doing what everyone else here does'. When new materials for solar panels come in, Willcocks helps to develop them.
Level up
Different levels of apprenticeship are available, depending on qualifications and goals. For example, a level 3 apprenticeship is considered equivalent to A-level. Higher apprenticeships, levels 4-6, lead to a Higher National Certificate (HNC), Higher National Diploma (HND), foundation degree (equivalent to two thirds of an honours degree), or an honours degree.
'I think we were one of the first to offer a level 6 apprenticeship,' says High Force Research's Penny. The company took on its first apprentice – Megan Jones – in September 2015, aided by an RSC grant, which will pay university fees for the first three years. Jones is studying for a chemistry degree at Teeside University, which will take five years. High Force's second degree apprentice started in September 2016.
Science is a practical subject – you have to be able to do it.
Penny himself achieved his degree through day release. 'I think working and studying is a good way to get a degree. At the end of it, you're far more employable than somebody who has just come out of university,' he says.
In the past, High Force Research has struggled to find good quality control scientists, so offering in-house training is a perfect solution, says Penny – and he is delighted with Jones' contribution. 'After six to nine months she was doing analysis for us. If we had a degree level person in, she would be far ahead of them in terms of practical ability,' he says. 'Science is a practical subject – you have to be able to do it.'
Setting the standard
The way that apprenticeships are structured is also changing. Existing 'frameworks' are gradually being phased out, to be replaced by 'standards', which document what is required of apprentices. 'With the new standards, government is really putting employers at the heart of the design,' says Holliday.
A 'trailblazers scheme' sees groups of employers 'getting around the table and thrashing out what is the standard required for a job role in our sector,' says Holliday. The government's Department for Eduction is then responsible for approving standards. The trailblazer group for the new Life Sciences and Industrial Sciences Apprenticeship standard includes AstraZeneca, GSK, Pfizer, SABIC UK Petrochemicals, RSC, and the Institute of Chemical Engineers (IChemE).
The resulting standard for a laboratory scientist lists 14 knowledge and skills requirements. These include being able to develop and apply theoretical knowledge of advanced relevant science and working autonomously to analyse, interpret and evaluate scientific data.
Apprentices also need to understand the business environment and use creative thinking and problem solving to 'challenge assumptions, innovate, make new proposals and build on existing ideas'. Required 'behaviours' include good communication and being able to manage time effectively. The standard has sections devoted to analytical science, chemical science, and R&D.
On completing their apprenticeships, learners are also able to apply for professional registration as RSci or RSci Tech, provided by institutions such as the RSC, IChemE, and the Royal Society of Biology. 'The [registration] does add extra value – that's really important,' says Green.
How to apply
Applicants can search for available places on the government's Find an apprenticeship website, which currently shows a handful of foundation and honours degree options.
Employers will interview apprentices, although training providers, a college or a university may also provide advice and support.
What qualities do applicants need to demonstrate? Penny looks for a real interest in science. High Force also asks applicants to do a simple practical test on pipetting and weighing. 'We look at how they tackle a task; they don't have to get it right,' says Penny.
Science training provider CSR group likes to get fully involved in apprenticeship interviews, running a series of mini-assessments. For example, it may ask applicants to summarise raw data or do a pipetting exercise. 'We look to see whether somebody is compatible with our academic programme,' says Green.
It could be that the next generation of chemists won't be coming through the traditional university route – they'll be entering the jobs market directly.