Gopal Tiwari and Rajeev Mishra
RSC Publishing
2011 | 584pp | £36.99 (PB)
ISBN 9781849733809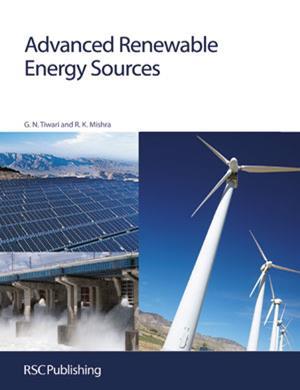 If you're interested in renewable energy or involved in any renewable energy research, Advanced renewable energy sources provides an excellent overview. After a comprehensive introduction on energy and the need for renewable energy sources, the book covers topics that include solar heating, wave power, wind power, biomass and more. An analysis of the sustainability and economics of each technology completes the review effectively.
The book is structured logically and each topic can be easily accessed through the comprehensive contents page. The gentle introduction into each chapter quickly leads into more complicated scientific analysis which is perfectly suited to senior undergraduate and postgraduate students. The chapters also include example problems throughout and objective questions at the end to ensure understanding of the concepts presented.
Unfortunately, the quality of the book is slightly undermined by small errors that litter each chapter and there is some repetition as well as the odd unintelligible sentence. Although at times frustrating, these errors do not detract from the scientific content presented.
Considering the rising fuel prices and debate over feed-in tariffs, wind farms, and other renewable installations, this topic is always timely. At a time where many researchers are focusing on one particular technology, Advanced renewable energy sources successfully brings the concepts behind each technology together and demonstrates some of the similarities between them. This book is therefore an exceptional tool for any scientists involved in public engagement or studying any type of renewable energy technology.
Purchase this book direct from the RSC. Members will receive a 35% discount.