Catherine Louis and Olivier Pluchery
Imperial College Press
2012 | 300pp | £65
ISBN 9781848168060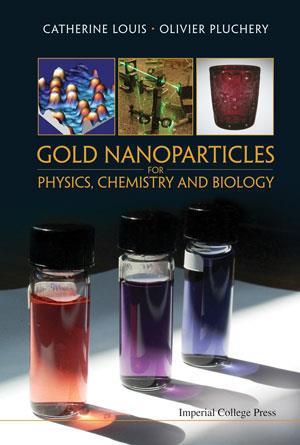 Once upon a time, several hundred years ago, 'before the nanotechnology era' (as it is put in the title of this book's first chapter) people first started to use gold for money and jewellery, and then nanoparticles (red-coloured glass).
This book starts with an interesting and well-documented chapter dedicated to gold through the ages, and in particular gold nanoparticles and their preparations. The next four chapters then cover the basic properties of the element, the optical (plasmonics) and photothermal properties of gold nanoparticles and an overview of liquid-phase synthesis methods. These five chapters, almost half of the book, provide a structured introduction to the concepts and knowledge that underpin applications of gold nanoparticles in biology and beyond. Students and academics entering this field, as well as those who, like me, struggle with the necessity of understanding so many different aspects from chemical synthesis to relatively advanced physics will benefit from this section.
The next chapters look at gold nanoparticles from a different angle: their preparation, structures, facets, assemblies and catalytic properties on surfaces are presented. This section of the book will be more useful to present and future surface scientists, but may also give new ideas to those who normally have their particles in solution; some of the surface-sensitive techniques could be applied (with care, of course) to particles deposited from solution.
The book's only theoretical chapter reports on clusters and their size-dependent properties. This field has seen particularly exciting developments in the past few years, including the wonderful opportunity to confront the models with the first few atomic structures of clusters that have been elucidated since 2007. This chapter's 'timeline of ideas' starts in the gas phase, moves to ligand-protected clusters, introduces the superatom concept and concludes with a discussion of the current challenges for theory (including a proper theoretical description of ligand exchange; I am looking forward to this).
The remaining chapters cover the biological applications and then potential toxic effects of gold nanoparticles. That is a vast, diverse and fast moving area. In my opinion, it is also rather confusing, with a number of unsettled questions and contradictory reports. While the authors do give a useful broad overview, readers will not find a unifying perspective, a critical appraisal nor a clear description of the current challenges in those chapters.
The concluding chapter brings us back to Earth by considering the current technological applications of gold nanoparticles. All in all, the authors have achieved their goal: a textbook for students, young scientists and experts who need an introduction to gold nanoparticles. The varied perspectives combine to give an agreeable read and a solid foundation in this topic.
Purchase Gold nanoparticles from Amazon.co.uk