On sport, performance enhancement and Alpine retreats
Kurt Wüthrich is a Swiss chemist based at ETH Zurich, Switzerland, and Scripps Research Institute, US. He won the 2002 he won the Nobel prize in chemistry for the development of NMR spectroscopy. He was speaking to Kit Chapman at the June 2017 Lindau Nobel laureate meeting.
Reading biographies had the greatest impact on my career. I remember in particular biographies of Robert Bunsen, Justus von Liebig, Albert Einstein and so on. All of those guys got their PhD at age 21 or 23. That was important to realise because it was typical to get a PhD at age 30. So I wasn't shy to get a PhD at age 24. I'm serious! That had a big impact on me, to read how they came about to do something special, and do it early on.
My goal was to be a high school teacher in sports and physics. I never studied full time, I had a job as a high school teacher and would study on the side. When I first went to the US, it was with a stipend to study school sports to improve the Swiss school system, which lacked basketball and volleyball. I had to study baseball. I like teaching and I knew that you could only be a successful teacher if you performed well yourself and could set an example.
Fishing was an important part of my early education. I was put in charge of trout fishing when I was 14: catching them to gain eggs and sperm. We lived on a farm. I still work part of it, up in the forest. I keep active.
My most frequent sports activities are skiing, swimming and European football. I usually play on the wing, sometimes centre forward. Never at the back – my technique was not sufficiently solid to give the team confidence when I played in the back. The last formal game I played was two years ago, a FIFA exhibition game. I played with many Swiss national players, it's nice to play with good players. And once you've got the Nobel prize you're in demand!
I've tried everything related to doping in sports. Now it's all blood doping. In the 1960s I'd just go to high altitude and train. More recently I had EPO administered. You get iron and EPO, and your haematocrit goes up 5-8 units. I got much shortened recovery times and clearly improved performance.
You can only be a successful teacher if you perform well yourself and set an example
I was considered quite good in the lab very early on. I remember I first studied in Bern, and the inorganic chemistry professor gave me something to do. He said: 'So many have failed, now I'll give you a chance to try.' It was separating multiple S–H compounds, which needed very strict cleaning of glassware because with the slightest of impurities they would decompose. And I just did it, so I must have been reasonably good in the lab.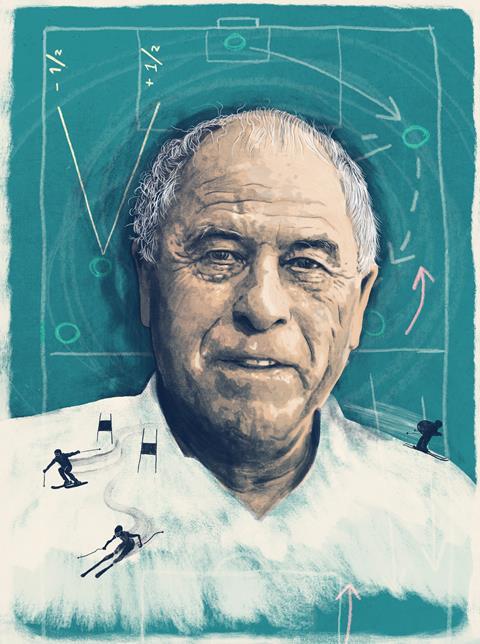 I moved to a mountain village when I started the project that won the Nobel prize. I'd presented the results and they'd been met with doubts. So I rented a house in Wengen, Switzerland. I skied every day – just 3–4 hours as skiing is very intense – and I wrote a book about what we were doing. It was very fruitful in Wengen, I published 40 papers and a book. It was very satisfying for me because I didn't ski well at that point. I hadn't skied in 13 years and the equipment had completely changed. You had boots that forced you into a certain position, so it took some time to get back in shape.
I have a degree in mathematics. Physics hasn't changed so much, but without a basis in maths I would not have been able to keep up with informatics over five decades. If a student enters a university as a chemist they have to study chemistry, but they also need courses in maths and informatics. Otherwise they'll be handicapped.
The most interesting area of physics is the search for missing elementary particles. I think this is very exciting, and learning more about the origins of the Earth and the whole system. In chemistry, it's as close as you can come to generating things nature has used for a very long time.
There is no doubt climate change is real. I trust that mankind will be able to live in a modified environment. Humans are much stronger at reacting to a bad situation than to prevent a bad situation from happening.
Kurt Wüthrich is a Swiss chemist based at ETH Zurich, Switzerland, and Scripps Research Institute, US. He won the 2002 he won the Nobel prize in chemistry for the development of NMR spectroscopy. He was speaking to Kit Chapman at the June 2017 Lindau Nobel laureate meeting