Chemistry World Entrepreneur of the year, Matthew Baker, created a multi-million-dollar company in his back yard, reports Sarah Houlton.
Chemistry World Entrepreneur of the year, Matthew Baker, created a multi-million-dollar company in his back yard, reports Sarah Houlton.
The Chemistry World Entrepreneur of the year, Matthew Baker, recently sold his company, DRI, to the US-based multinational life sciences company Invitrogen for $65 million (?34.5 million). Not a bad return for a company that started life just eight years earlier in his garden shed.
When biotech was unknown
Baker studied biotechnology at Queen's College, London (now part of King's College) in the early 1980s, before biotech was trendy - or, for that matter, before many people even knew what it was. 'It was a very wide-ranging course, which meant studying chemistry up to degree level in certain areas,' he explains. 'It also concentrated on the fundamentals and not the detail, and then applied them to problems.'
Rather than staying in academia for a PhD, Baker moved into the commercial world, in sales and marketing roles for big pharmaceutical and medical device companies. 'I learned the basics of business, such as why people buy things, how products are distributed around the world, the cost of goods and margins and things like that,' he says, and even spent four years studying part time for an MBA along the way.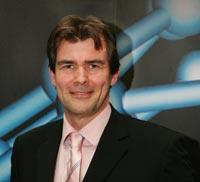 After a decade working for large multinational companies, including Organon Teknika and Teleflex, he realised that big companies weren't for him, and started working with smaller companies as a consultant. 'I had spent about 10 years travelling all round the world and finally got fed up of it. I've always liked science, and really wanted to be doing the science I wanted to do without too many constraints.' He had set up a lab in the garden - much to his wife's disgust, he claims. 'One minute we were living in a nice little garden flat in London, and the garden disappeared one day and it turned into a big shed!'
Starting up in the shed
He ended up working part-time for the companies, and doing his own thing at weekends and in the evenings in the shed. This was in the early 1990s, when the polymerase chain reaction (PCR) was beginning to revolutionise DNA research. Until that point, his shed science had been with antibodies, but he realised that PCR had much more potential - several companies had already started turning over millions of pounds worth of products related to PCR.
Baker had already been working with molecular biology companies, and soon realised that the purification of DNA and RNA was a major bottleneck - it was hazardous, and not easily automated. 'I decided to go back to the first principles of chemistry and decide on what extraction process I needed. Standard chromatography was very good but very cumbersome, and I came up with a system that allowed you to purify DNA very easily.'

The system, ChargeSwitch, involves putting a positive charge on a solid support that would bind the DNA at one pH, but when the pH is changed slightly the charge would decrease and the DNA separates away from the solid. Traditional ion exchange columns, like those used for making deionised water, use charge to bind molecules, but they bind at all pH levels, and large amounts of salt are needed to wash them off. This effectively means that the molecules have to be purified twice. Baker's system avoids this.
It took him several years to go through all the existing technologies and test them himself on the bench. 'It was very tedious, but necessary to find out what was good and bad about them, and then spend several years thinking about what we needed to do. In the end, the solution was very simple, and looking back I don't know why it took so long.'
Patently a winner
The patent was filed very early, he says, and the coverage of his technology was comprehensive. 'Fortunately I wasn't working for anyone but myself so no one owned it. That was a key thing,' he says. 'If I'd been working with a university, for example, we wouldn't have got as far as we have done because of the IP complications. The patent was filed before I started the company, and about 18 months before anyone else filed similar patents. There were about five groups working in the area around the world and they all came up with a similar approach, but we got there first - in the shed - and we stopped the big guys.'
However good an idea is, and however strong the intellectual property, commercialisation is expensive, as is protecting those all-important patents, and Baker says that raising the money needed to get the company going was far from easy.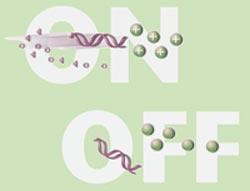 The initial funding came from a Department of Trade and Industry Smart grant and about a dozen business angels, including Sir John Cadogan, who became the company's chairman. But the sheer cost of transforming a good idea into a commercial product means substantial venture capital funding was essential, and in 1998 he began to try and secure the money he needed.
'It was a bit like selling insurance, knocking on doors,' he says. 'The venture capitalists receive maybe 2000 business plans a year, and most probably go in the bin. They just don't have time to read them all. It took two years of knocking on those doors, even though there was a market need and I had customers in big multinational companies lined up wanting to buy the product.'
Alongside raising the money, Baker was putting a team together to run the company, including a CEO and patent agents, and by 2002 the company had products on the shelf. 'We made the decision only to sell in the UK, unless people wanted to ship products,' he explains. 'That way we would have no distribution network to unravel if and when we were bought out.'
Getting the right people
In all, DRI received around ?8 million in venture capital funding, from Prelude and Advent, and also from Dow Chemical's venture capital arm. 'We had no big fall-outs, which is remarkable for a biotech company,' he says. 'That was largely down to our CEO Simon Douglas, who could smooth the way between me, the crazy scientist in his shed, and the venture capitalists and the board.'
Douglas' background is in blue-chip life sciences companies, including Amersham and AstraZeneca, as well as having experience of raising money and running start ups, and this proved invaluable. 'The people were key to our success,' Baker claims. 'We hired 20 or 30 scientists straight away with the money we had.' They established research labs on the Kent science park near Sittingbourne; by this time, Baker had moved out of his shed into what he describes as a 'dungeon' on the site. 'It used to be a Shell research site. They'd just sold it and it was being developed, and they gave me a year's free rent - no-one else would have rented it! - and I spent around ?10,000 on second-hand gear to equip the lab. But the money from the venture capitalists meant the company could get going in earnest.
Over time, the company's strategy evolved, and rather than Baker's initial aim of offering just one or two products, the range was extended, and rather than concentrating solely on blood and DNA, products for plants, viruses and RNA were added. 'Logistically, it was very difficult to come up with 30 products under an ISO [International Standards Organisation] scheme, but we seem to be doing all right!' he says.
'We provided a kit with reagents and the solid phase with the charge switch,' he says. 'We were a ready-made company, ideal for acquisitions, with strong, uncomplicated intellectual property, and as we were manufacturing to ISO 9000 standards, due diligence was easy - it was simply a case of checking batch records. And, importantly, people were already using the products - and they liked them.'
Preparing for an easy exit
Venture capitalists will only invest in a company if they can see an exit route within about five years: they want to get their money back with, ideally, a substantial profit, in a reasonable timeframe. And the exit came in 2004, when DRI was bought by Invitrogen, after a bidding war with another multinational that helped boost the selling price. 'We had enough money to carry on alone, but people were offering us big money for a licence, or we could have carved out a proper distribution network by allocating certain products. We could even have floated the company.' But the money Invitrogen was offering was too good to resist.
For every start-up company that succeeds, many never make it, whether because the technology didn't work, insufficient funding could be raised, a market couldn't be found, or even because that necessary slice of luck just didn't materialise. 'You only get to hear the success stories - not the ones where it didn't go quite right,' Baker says. And he admits that he was over-optimistic about how long it would take to succeed. 'My big plan, which was probably far too ambitious, was to get something done in a year. In reality, it took two years just to raise the money, and five years to get products on the market.'
Yet the venture capitalists had faith, as did Invitrogen, who bought DRI despite its first products only having been on the market for a year. 'In fact, not all of the products were actually tested and marketed when they bought us,' he adds. 'That is incredible, it was actually a technology sale and we persuaded them of the potential that was there.'
Letting go
Was it difficult handing over his 'baby' to Invitrogen? 'Not really, no,' he says. 'You really hand it over once you accept money from the venture capitalists. You hope they'll keep you on as one of the managers, but as they soon own more than 50 per cent of the company they could, effectively, fire you. I guess it wouldn't look very good if their main scientist has been fired, but I'm sure it happens. That's why you've got to get on with them. Once they've got that 51 per cent they are more confident, even though at the end of the day it's down to me and Simon who manage the company, the technology and the final exit. But once you've handed it over, you've got to get on with the job as a professional.'
The end?
For the near future, Baker will remain at Invitrogen, and once the integration is complete that will be time to move on. But he's not planning to retire to bask in the success of DRI - he's looking for his next challenge. 'I want to do this type of thing again,' he says. 'It may not have to be venture capital based now - that would really depend on what we were trying to do - but it would be nice to use the experience we've had of running a start-up and raising money, and use novel chemistry to create something again. It's just a case of finding what that should be. And maybe I can get a bigger shed now!'
Sarah Houlton is a freelance writer
All entrepreneurs like sheep
A cautionary tale from Baker's early career illustrates the importance of thinking an idea through properly. He'd been working in the antibodies arena, and thought it would be possible to use sheep to make them. 'I persuaded a farmer to lend me a field and help me get some sheep, and the Home Office to give me a licence,' he explains. The idea was to immunise the sheep so they produced antibodies, and then collect some of their blood and isolate the antibodies.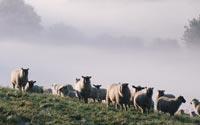 © Photodisc
That all sounds very straightforward. However, the reality was rather different. 'I'd never seen a sheep before - and the farmer had found me the biggest, ugliest sheep he could. They weighed about 15 stone and my wife and I ended up running around the fields chasing sheep - they were really difficult to catch and really nasty!' he laughs. 'After about a day, I realised it wasn't going to happen. The flock's leader was a big female, she was stamping her feet as we approached the flock, and I thought, "OK, let's call it a day!" So my big antibody factory in a sheep field unfortunately didn't happen. We jumped ship straight into PCR, thinking it was much safer and someone might actually want to buy the stuff!'