Jim Fraser has moved from police forensic work to academia. He talks to Bea Perks about the differences between analytical chemistry and forensic science and his plans for UK courses
Jim Fraser has moved from police forensic work to academia. He talks to Bea Perks about the differences between analytical chemistry and forensic science and his plans for UK courses
Jim Fraser switched careers after 27 years as a police forensic scientist to become director of the centre for forensic science at the University of Strathclyde, UK. He is president of the Forensic Science Society, the UK professional body for forensic practitioners, and has acted as a consultant for many UK police forces and the Home Office.
His CV hosts a grisly roll-call of criminal investigation - from the Yorkshire Ripper in the 1970s to the case of 58 Chinese nationals found asphyxiated in the back of a lorry in 2000. He has acted as an expert witness in several high profile cases, including both the trial and re-trial of Michael Stone, found guilty - both times - of the murders of Lynn and Megan Russell. His office is decorated with mementoes of his career: the dagger presumed to have killed 'Singapore Billy' during Triad warfare in Soho in the 1980s; and a front page from the London Evening Standard recalling a case he worked on subsequently - 'Vice murders: diplomat held'.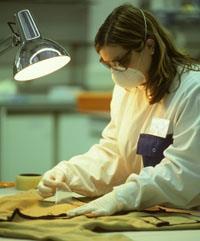 Did you always want to be a forensic scientist?
No, I don't think I ever wanted to be a forensic scientist. I got offered a job and chose to take it. It sounded interesting, but it wasn't my dream job. For the first couple of years I wasn't amazingly interested in it because big chunks of forensic science are essentially procedural and quite dull. Many of the techniques used are incredibly simple and not amazingly exciting: spot tests for blood and drugs, simple field tests. This was obviously pre-DNA days.
But it gets interesting once you understand the arena that you're working in, which is actually quite difficult for some scientists to pick up. I think there are lots of scientists, even some forensic scientists, out there who still don't really understand what forensic science is about.
What is forensic science about?
There is a fundamental difference between analytical chemistry and forensic science. There are people all round the world constantly analysing drugs, plastics, polymers, oils. That analytical process - by which you sift through test results, mass-spec results, whatever - is not forensic science: that is analytical chemistry.
The crucial difference between forensic science and analytical chemistry is that it sits in a legal and investigative context. That means the questions being addressed are legal or investigative.
If a forensic scientist is asked: 'There's a deposit here of some kind, can you tell us what it is and if it means anything?' The answer is not 'It's oil'. That's the first stage of the scientific result: the analytical result. The difference between analytical science and forensic science is that the next question is 'So what does it mean?'
You need to be comfortable not just with factual information, but also with intelligence information.
Where was your first job?
In the Metropolitan Police forensic science laboratory. I worked in the fibre and hairs section. That meant I did pretty much the same as every other biologist, but because it was the biggest lab in Europe, and one of the largest in the world, it had bigger specialist sections.
We had a whole section that specialised in the forensic evaluation of textile fibres. I spent quite a lot of time using some fairly traditional analytical chemistry techniques: infrared spectroscopy, Fourier transform infrared when it was developed.
I was involved, I just remembered this very recently, in the Yorkshire Ripper case. I mean how could you forget that? I was involved in quite a minor and peripheral way but it's interesting in a chemistry sense, because we were evaluating the first microspectrophotometer - basically a spectrophotometer attached to a microscope - that was getting used in the UK. We didn't find anything but we were using a novel technique.
It's hard to miss the framed dagger in your office, where did it come from?
That was a murder case [Singapore Billy was the victim of Triad warfare in Soho, London, in 1985]. Basically I was looking at the clothing for blood, fibre traces, hairs, etc. We looked at the dagger for blood and fingerprints. Bear in mind this is the alleged weapon, it may not have been the weapon. I can't remember if we found blood on it, to be honest.
It's been treated with cyanoacrylate (superglue) because it reacts with fingerprints. And probably with aluminium powder as well, which brings up fingerprints. If there was any blood I wouldn't have marked it because I might have marked through a fingerprint.
You talk quite freely about weapons and wounds, but how easy is it to stand back from it as a forensic scientist?
I've never really had any personal difficulty and I don't get the impression most forensic scientists do. What you find is that, if you work in a lab - and most forensic scientists spend most of their time in the lab - you are quite distant from the direct stuff. If you regularly go to crime scenes and you deal with victims, that's a completely different business.
I think as you get older it gets a little bit more difficult, you realise what's important in life.
What prompted the career switch to academia?
This is an extension of it. This will provide me with an opportunity to get involved with things that I couldn't in my previous job. I'm going to get involved in research. I'm going to be involved at a high level in policy formation, regulation, the development of the education products here and making sure that the MSc and undergraduate programmes here are cutting edge products. I want to develop a really distinctive research programme, I'd like the research focused on the really big questions in forensic science and build a reputation for asking those questions.
Why Strathclyde?
The alumni list from Strathclyde is like a Who's who of forensic science: professor of forensic science at the University of Lausanne, one of the most respected universities in this business in Europe; head of the Hong Kong lab; head of the Strathclyde police lab; head of the Lothian and Borders police lab; senior people around the world.
The people that leave Strathclyde with undergraduate and postgraduate qualifications in forensic science are scientists. The undergraduate degree is the oldest undergraduate forensic science course in the UK, the MSc is probably the oldest in the world.
In my view this is the UK number one. My challenge is to keep it there. More people have graduated from here and work in forensic science than from any other single institution in the UK and possibly even in the world.
The numbers are getting skewed now because people are churning through frankly, in some instances, pointless masters courses.
How many forensic science courses are there in the UK?
Over 400 at about 50 institutions. It seems to change every now and again but you're talking several hundred courses: Forensic science and football technology; The early childhood experience and forensic investigation (because they go together, don't they?)
When there's a shake out, and there will be, my guess is that half of them will transform into the next thing that's fashionable. There will then, I would guess, be no more than five institutions in the UK that are seriously involved in forensic science.
Is anyone monitoring the quality of UK forensic science courses?
The Forensic Science Society is in the advanced stage of doing that. My personal view is that we will not accredit courses where we think the assessment methods don't meet industry standards within higher education.
Will students know to avoid courses that haven't been certified?
It's not about certification, it's about saying 'this is a serious course, we accredit this because we think the processes, institution and the people who teach in it are seriously trying to educate people in forensic science.' I don't expect, given the number of institutions doing this, vast numbers of them to be accredited.
Which institutions won't make it?
I could tell you but I'd rather not. I don't want to give any of these people credence, frankly. Sorry if I sound a bit aggressive about it but I do object to people talking to me about a business I've been involved in for a very long time and talking rubbish about it.
When I get my head clear on it, when I get the research done, I will tell them. I don't want to tell them now, because at the moment these are very strong suspicions rather than facts.
How will you check the facts?
I'll look at the websites, I'll look at the syllabuses and I'll look at the kinds of things they say. I'll look at whether anyone who's teaching has ever been involved in forensic science, whether they've ever published any research in forensic science; virtually none of them has.
We published 100 papers of relevance to forensic science in the past decade in this centre.
Is there a shortage of forensic scientists?
If you ask pretty much anybody in a forensic science lab around the world whether they have enough staff, they'll say no. The reasons will vary, but largely it's because they're public institutions and are funded by public means and it's often tricky to get the number of staff required. Secondly, this is currently an incredibly dynamic business, the police world has woken up, particularly in the last five years, to the potential benefits of forensic science. They are submitting far more to forensic science laboratories.
The situation in the rest of the world (including Scotland) is quite different to that in England and Wales, where test results can be supplied privately. Pretty much everybody I know in Europe and the US who works in public sector forensic science has a backlog. Backlogs in England and Wales are absolutely tiny.
Would you welcome the Forensic Science Service becoming a public private partnership (PPP)?
The typical experience around the world is one of backlogs (see Chemistry World, April 2005, p11). People in the US still don't believe that DNA can be turned round in two or three days, as it is in England and Wales. It's a controversial business, but one of the clear benefits of privatisation is that - it's a bit of a clich? but lawyers trot this out all the time - 'justice delayed is justice denied'.
I was getting drugs results supplied privately when I worked for Kent Police. [The Forensic Science Service] had been getting slower and slower and slower. In the twinkling of an eye, ?100000 of drugs work moved to another company, to LGC. It's more a case of what a competitive market can bring rather than who the players are.
What then happened was, very sheepishly, the Forensic Science Service came back to me and said, what do we need to do to get the work back? I said, when you can guarantee me a turnaround time of less than 10 days. Until then, don't even attempt to speak to me. About three years later they came back.
The average turnaround time for drugs when I left Kent was under five days, and the same for DNA, and I could get it the same day if I wanted.
So the PPP's all good news?
There are some quite complicated downsides to it. There are dangers that a consumerist approach by the police starts to dramatically alter the service provision.
There needs to be some sort of guaranteed service both in terms of capacity and range. It can never be in the interests of justice for all the suppliers to say we're too busy to do this when you've got someone that you want to arrest or who has been arrested and is in prison and you need to get evidence. So there is a real danger that the service will be driven by cash and price.
This must be a regulated market; you only need to say the word 'railways'. It's very controversial, there's no other country in the world where all of its forensic science provision is privatised to
my knowledge. In Scotland they're not keen on it at all, and in most other countries they're just not interested.
Curriculum vitae: Jim Fraser
Date of birth 12 November 1955
Education
1978 BSc Applied biology, Glasgow Caledonian University, UK
Employment
2004-present
Director, centre for forensic science, University of Strathclyde
1996-2004 Head of forensic investigation, Kent Police
1989-1996
Head of forensic biology, Lothian and Borders Police
1978-1989 Forensic scientist, Metropolitan Police laboratory
Positions
President of the Forensic Science Society (until November 2005)
Fellow of the Institute of Biology
Fellow of the Chartered Management Institute
Science and technology committeeinquiry
The UK parliament's science and technology committee launched an inquiry in 2004 into the impact of a government plan to develop the Forensic Science Service - an executive agency of the Home Office that supplies forensic science services to police forces - into a public private partnership. Jim Fraser was examined as a witness and noted that, in 2006, about 2000 graduates will be released with degrees 'notionally in forensic science', feeding a supply that is not employer-driven. The inquiry's report, Forensic science on trial, was published in March 2005.