Compound in blue–green algae is thought to help prevent heart disease by activating haem oxygenase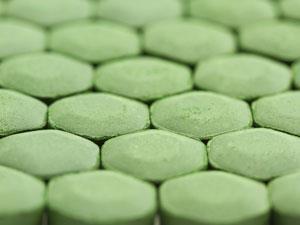 Scientists investigating the health enhancing properties of spirulina have identified that its
atheroprotective activity may be due to it having a protein with a similar structure to bilirubin
.
Spirulina, a blue–green algae taken as a food supplement, has gained cult superfood status because it is packed full of proteins, polysaccharides and vitamins. It has also sparked a craze of urban gardening – barrels of the edible algae are being grown on rooftops in Bangkok, Thailand. Although its atheroprotective effects are well established, scientists have been unsure about the mechanism behind its activity.
Now a team, led by Petr Nachtigal at Charles University in Prague, say they are closer to the answer. Spirulina's atheroprotective activity was already thought to be due to an algal protein complex called phycocyanobilin (PCB). PCB is structurally related to the human bile pigment bilirubin, which is clinically proven to protect against oxidative-stress related diseases such as atherosclerosis. In humans, bilirubin is made when the enzyme haem oxygenase-1 (HMOX1) catalyses the breakdown of haem. Nachtigal's team have now shown that PCB can boost HMOX1 mRNA expression and activity in mice. Although the mechanism by which PCB upregulates the enzyme is still not known, Nachtigal says that HMOX1 expression is a potential atheroprotective pathway. He goes on to add that 'the underlying mechanism might be Spirulina-induced modulation of the intracellular Nrf2/Keap1 transcriptional system of HMOX1,' and that they are currently investigating this.
'While this work clearly demonstrates that spirulina has a positive effect on HMOX1 expression and HMOX enzyme activity in endothelial cells, it is not conclusive that PCB is solely responsible for these effects,' says Maria Hayes, an expert in marine bioactives from Teagasc Food Research Centre, Dublin. 'It would be interesting to see if other PCB containing cyanobacteria species have similar effects and it would be most interesting to see if these extracts inhibit other enzymes such as platelet activating factor acetylhydrolases which are thought to play a role in inflammation and atherosclerosis.'
Further work from the group will focus on combining spirulina with the most commonly used atherosclerosis drugs, statins.