Microbe that anaerobically degrades plant biomass could help bring down the cost of biofuels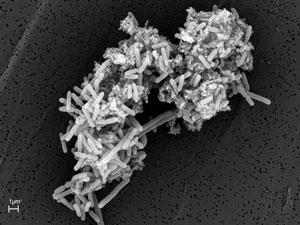 US scientists have discovered the first microorganism that anaerobically degrades plant biomass to release sugars for biofuel feedstocks. At present, this is the only known anaerobic microbe capable of solubilising all plant components – including cellulose, glucose, and lignin, which is extremely difficult to break down – at the same time and at similar rates.
Biomass typically needs to be pretreated with strong acids, at high temperatures, to break it down into usable raw materials for biofuel. However, current industrial pretreatment processes are inefficient and expensive, and can pollute the environment.
Herbs and woody plants are potential renewable biofuel feedstocks, but their chemical complexity and high lignin content make them extremely difficult to degrade. Scientists have been trying to find, or bioengineer, microorganisms that can more readily breakdown plant material and produce desired biofuels directly from untreated biomass.
A large team of researchers, led by Michael Adams at the University of Georgia, grew the thermophilic cellulose- and hemicellulose-utilising Caldicellulosiruptor bescii bacterium on switchgrass commonly found in North America. By exposing switchgrass to the microbe at around 80°C, Adam's team found that C. bescii could solubilise a significant amount of the biomass – up to around 25% per 5-day treatment – including the problematic lignin.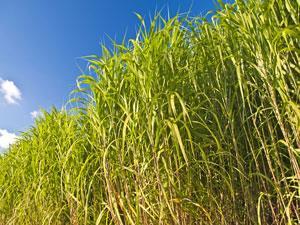 'At first, we had really just hoped to breakdown the plant material [using the microorganism],' says Adams. 'All we wanted was to release the sugars [in the switchgrass]. So we were very much surprised to see that it solubilised the highly recalcitrant lignin, as well.'
'These findings can have important implications for more sustainable biofuel production, and will surely stimulate further research on the use of thermophilic microbes in the direct, pretreatment-free conversion of plant biomass to biofuels,' comments Rafael Luque, an expert in biomass and waste valorisation at the University of Cordoba in Spain. He suggests that the use of C. bescii on other biofuel feedstock, such as hardwood, should be investigated.
Adams agrees that much still needs to be done to translate the basic research into industrial applications. His group is now focussing on studying what still limits the microorganism's ability to degrade biomass, as well as looking into genetically engineering this organism to yield more useful products, such as alcohols and alkanes, rather than the organic acids it naturally makes.