China to spend over a billion dollars on improving crop yield, nutrition and drought resistance
Hepeng Jia/Beijing, China
China is to launch a huge research programme on genetically modified (GM) crops by the end of the year, according to top agricultural biotechnology advisors.
Huang Dafang, former director of the Chinese Academy of Agricultural Sciences' (CAAS) Institute of Biotechnologies, says the programme could receive as much as 10 billion yuan (US$1.4 billion) over the next five years - five times more than the country spent on GM research in the preceding five years.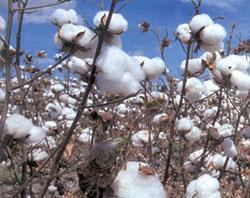 A member of the Chinese People's Political Consultative Conference (CPPCC), China's upper house, and a key government advisor on biotechnology policies, Huang revealed the news at a briefing on the annual report of the International Service for the Acquisition of Agri-Biotech Applications (ISAAA), a non-profit organisation promoting agricultural biotechnology.
The ISAAA report indicates in 2007 a total of 114.3 million hectares of GM crops were cultivated worldwide - an increase of 18.3 per cent from 2006.
The most widely adopted GM crop is Bt cotton, engineered to produce a toxin from Bacillus thuringiensis (Bt) to fight bollworm. China has developed GM petunias, tomatoes, sweet peppers, poplar and papaya, and several varieties of rice but to date policymakers have only allowed GM cotton to be marketed.
Huang says that yield, quality, nutritional value and drought resistance will be major targets of the new research programme. As well as rice and cotton - which have been the focus of GM technology research in the past - corn and wheat will also now be priority crops for research.
Receptive farmers
Hu Jifa is chief research fellow at the the Chinese Academy of Sciences (CAS) Center for Chinese Agricultural Policy (CCAP), China's chief think tank on food policy issues.
He confirms the programme is set to go ahead and says that funding for research on safety and environmental monitoring will be included in the programme.
The GM seeding programme was mentioned in China's 11th Five-year science and technology development plan (2006-2010) but decisions on the funding and scope of the programme have been delayed for two years due to the sensitivity of the area, Hu says.
But policymakers are now more receptive to GM technologies, says Hu, and that could lead to more GM crops getting the go-ahead for commercialisation.
Judy Wang of Croplife China, an organisation representing agricultural biotech firms, welcomes the news, and says that the research programme could help make GM crops more acceptable to Chinese farmers.
Liu Xuehua, an associate professor of environment planning at Tsinghua University, says that while she is not opposed to GM technologies, policymaking in the area should be more cautious and transparent.
'Stakeholders, rather than scientists alone, should be involved in the policy-making process concerning GM commercialisation so that more potential risks can be identified,' Liu says. 'The decision to commercialise them should not be based simply on the fact that there is now big government funding for the area,' she adds.