Bioassay distinguishes between different human papilloma virus genotypes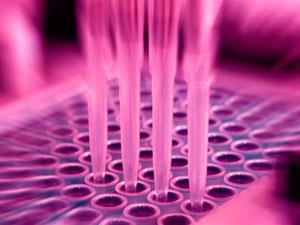 Researchers in the UK have developed
an automated bioassay that can spot the forms of the human papilloma virus (HPV) most often linked with cervical cancer
.
Cervical cancer is one of the leading causes of cancer death in women and it is almost always associated with the Human Papilloma virus (HPV), a DNA virus with more than 200 known genotypes. Almost 99% of all cervical cancers are associated with at least one genotype of HPV. Estimates suggest that more than 50% of people will be infected with HPV at some point in their lives and many will not even know it, with most genotypes not being a risk to humans.
Early stages of cervical cancer do not present clear symptoms so a simple and rapid diagnostic test capable of detecting and differentiating multiple HPV types is needed to implement appropriate and timely treatment.
Now, Ross Stevenson and co-workers at the University of Strathclyde and Renishaw Diagnostics have developed a quick and efficient bioassay that uses surface-enhanced Raman scattering spectroscopy (SERS) to differentiate between different HPV genotypes.
SERS is a powerful and sensitive spectroscopic tool that is highly suited to the simultaneous detection of more than one target. By using specific probes and magnetic nanoparticles the team have demonstrated that their SERS assay is just as sensitive as standard tests with the added advantages of increased throughput, reduced turn-around times and the ability to detect multiple targets in an individual sample.
Bringing this promising technology closer to the clinic is of vital importance for the development of high throughput diagnostics and in principle it will be possible to create individualised patient management strategies according to what type of HPV is present. Matthew Baker, a healthcare and spectroscopy expert at the University of Central Lancashire in the UK, is very excited by this prospect, as the benefits of SERS multiplex sensing will provide a more sensitive test capable of diagnosing dangerous infections early to allow for rapid therapeutic intervention.
Analytical chemistry expert Marc Porter from the University of Utah in Salt Lake City, US, says that 'SERS is poised to move from the research laboratory into the realm of clinical diagnostics'. And according to Steven Bell, a Raman spectroscopy expert at Queen's University of Belfast in the UK, this approach already has many of the features, including automation and the ability to perform separate assays on the same sample, that move laboratory bioassays from being a proof-of-principle to a valuable new clinical technique.