Polluters could be denied loans in latest moves to reduce emissions
Hepeng Jia / Beijing, China
China's central bank has said it will forge ahead with plans to encourage commercial banks to cut back on loans to the most polluting firms. The message came just days after the government announced a fresh round of legislation to spur businesses to reduce emissions and become more energy efficient.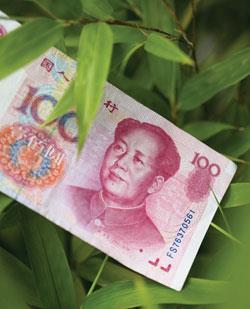 Speaking at the China Energy Investment Forum 2008 on 28 February, Mu Huaipeng, director general of the People's Bank of China's finance market department, said that the bank's green lending scheme will encourage commercial banks to lend money to firms developing clean technologies - but restrict lending to energy intensive or polluting firms.
Meanwhile, on 26 February, the State Environmental Protection Administration (SEPA) proposed stopping export tax rebates on more than 141 products that may cause pollution when manufactured, including pesticides and fertilisers. This follows a hike in export taxes on a range of 'energy-consuming and environmentally damaging' materials introduced at the start of 2008 - including steel, coke, coal, ores and ferroalloys.
A day earlier, SEPA released a circular sent to its regional bureaus stating that polluting companies should not pass the environmental evaluation process - a move that would stop them from listing on the stock exchange.
However, some analysts believe the Chinese chemical industry, one of the country's biggest polluters, may be able to sidestep many of the new green policies.
'The chemical industry remains the major fiscal revenue source for local governments, which will help them avoid severe policy attacks,' Wang Weigang, chief analyst of Shanghai-based Northeast Securities, told Chemistry World.
Shao Jie, an expert at the Netherlands-based clean technology developer Azure, says China must improve the procedures to assess the environmental impact and energy consumption of businesses. 'The traditional energy assessment cannot fully reflect efficiency improvements,' says Shao.
But there are some signs that the numerous laws introduced recently to tackle China's environmental problems may be starting to produce results.
Two key pollution indicators - emission of sulfur dioxide and COD (chemical oxygen demand) - fell by 4.66 per cent and 3.14 per cent respectively, the first time both have declined since 1980s. Meanwhile, the country's energy consumption relative to per capita GDP (Gross Domestic Product) decreased by 3.27 per cent.