Pincer molecule will readily open wider to accommodate its guest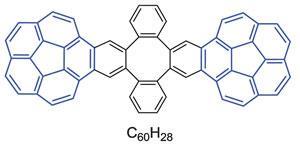 Chemists in the US have successfully isolated
the first anion of a distinctive type of pincer molecule, known as a buckycatcher
, and confirmed the extraordinary flexibility it has for encapsulating guest molecules.
The buckycatcher in this study (C60H28) consists of a tetrabenzocyclooctaraene tether that links two corannulene (the smallest and most studied buckybowl) pincers. In previous attempts to isolate this molecule, researchers have had difficulties with solvate formation, as solvents fill the large empty cleft that the buckycatcher uses to encapsulate guest molecules. However, a collaboration between the groups of Marina Petrukhina, at the University at Albany, State University of New York, and Andrzej Sygula, at Mississippi State University, has finally managed to elucidate the structure of this rather interesting molecule by developing and carrying out a rather arduous solvent-free method that involved growing the crystals in a vacuum over several months.
The buckycatcher's flexibiliy has been suggested before, but Petrukhina's team provide the first experimental evidence for the adjustability of the tetrabenzocyclooctaraene tether that connects its corannulene pincers and allows them to move closer or further apart to catch guest species.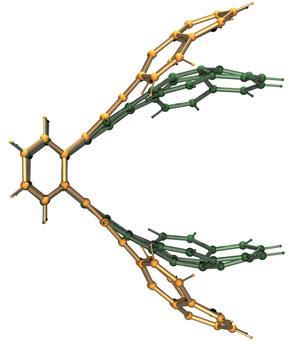 Thomas Chamberlain
, a functional fullerenes expert at the University of Nottingham in the UK, says, 'although it's a pretty established area, the buckycatcher system is exciting as it uses ubiquitous van der Waals forces, through the cup-shaped arms, in combination with the ionic forces which exist between its reduced form and cationic guest species.'
Petrukhina says the group are extending their work to the design and synthesis of similar systems to 'generate a pool of size-specific molecular receptors with corannulene pincers, which will potentially lead to more efficient separation, isolation and/or detection of certain guest molecules.' As for applications of these materials, Chamberlain comments that 'in the future they could be used for data storage and quantum information processing where the use of molecular based components provides the extreme miniaturisation required for the formation of smaller and more powerful computers.'