Toxicity tests reveal two ionic liquids that can target antibiotic resistant MRSA
Scientists from Ireland, the Czech Republic and Spain have found an antimicrobial ionic liquid that targets MRSA (methicillin-resistant Staphylococcus aureus). MRSA has made headlines in recent years as a superbug that is resistant to most standard antibiotics. The superbug is common in hospitals where patients have open wounds and weakened immune systems and at its peak, it was said to have caused 1652 deaths in the UK in 2006.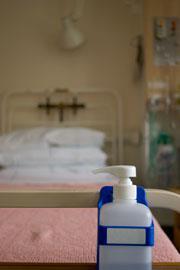 Research into finding potential antibiotic drugs against MRSA is ongoing, with many drugs currently being tested in clinical trials. Nicholas Gathergood, from Dublin City University, and colleagues, have prepared imidazolium-based ionic liquids from amino acid esters and dipeptidyl side chains as the building blocks. They tested the ionic liquids' toxicity and found that the majority were non-toxic to microbes but two of them were highly toxic to Gram-positive bacteria, including MRSA. The two toxic compounds possessed a phenylalanine motif adjacent to the cation core. However, an analogue with a phenylalanine-phenylalanine sequence, an ionic liquid with increased lipophilicity, was less active (with no MRSA selectivity). A general trend in antimicrobial toxicity of ionic liquids is increased toxicity with increased lipophilicity. The compounds also passed ecotoxicity tests that show that they can be classed as biodegradable.
Gathergood describes the philosophy behind the research as 'combining green chemistry and medicinal chemistry to develop safer and cleaner synthetic methods while developing new pharmaceuticals'. He believes the discovery of a hit MRSA selective antibacterial drug is significant and that the data can be used as a 'head start to determining the pharmacophore' (a feature necessary for molecular recognition). He also describes the biodegradable property of these ionic liquids as important because this 'avoids persistence in the environment and reduces the opportunity for bacteria to develop resistance mechanisms'.
Expert in green chemical technologies James Clark from the University of York, UK, believes that 'developing uses for even a few of the very many ionic liquids that have been reported over the last 10 years and making use of some of the enormous bank of data that has been accumulated is very pleasing'.
Andrew Shore
References
et alGreen Chem., 2012, DOI: 10.1039/<man>c2gc16090k</man>