Gene probes made using 'DNA origami' could monitor single cells
US scientists have made nanoparticles from DNA that they say could be used to identify the genes being expressed in a single cell[1].
The team, led by Hao Yan of the Centre for Single Molecule Biophysics at Arizona State University, believe their nanoparticles offer significant advantages over the two existing techniques used to analyse the complex mixtures of messenger RNA produced by active genes.
Conventional DNA microarrays are slow, difficult to scale down for use with small samples and only work if the target molecule is tagged with a fluorescent label. The alternative - amplifying up the target RNA using the polymerase chain reaction - requires careful handling of reagents to avoid errors during the replication process, Hao told Chemistry World.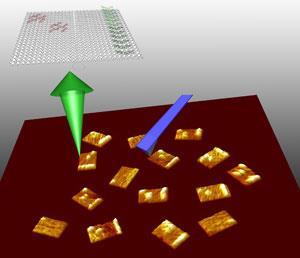 The new method directly detects the specific target molecule with remarkable sensitivity because the probe is built using a single DNA molecule, shaped like a tile and measuring only 60nm by 60nm. The tiles are the first practical application of the 'scaffolded DNA origami' method developed in 2006 by Paul Rothemund at Caltech in Pasadena, California[2]. This involves a single DNA strand folded into shape and stapled in place by multiple shorter strands which can self assemble into millions of identical copies.
Probes for particular RNA sequence are incorporated into the tiles, which are water soluble and can be mixed with the test sample so that the target sequences bind to form a DNA/RNA hybrid. Then the tiles are adsorbed on to a mica surface and the resulting surface shape is read by atomic force microscopy - which uses a sharp-pointed probe drawn over the sample to produce an image.
"Hao's team point out that their chips can bind proteins as well as RNA. So perhaps nucleic acid and protein complexes, straight from the cell, can be visualised in the future" - Paul Rothemund
Hao's team have made probes for three RNA gene products found in mouse cells. But they next plan to test the sensitivity of the technique to its limit. 'We are going down to single cell gene expression detection and use the tile to study cooperative interactions between a variety of biomolecules,' he said.
Rothemund believes this development of his technology could provide valuable information on the biochemical mechanisms operating within a cell. 'Hao's team point out that their chips can bind proteins as well as RNA. So perhaps nucleic acid and protein complexes, straight from the cell, can be visualised in the future,' he told Chemistry World. 'Much of the machinery of the cell is made up of such complexes but it is very difficult to find how the parts are arranged. Perhaps this technique can help us do so.'
John Bonner
References
et al, Science3192 Nature440, 297 (DOI: 10.1038/nature04586)