Risk of cardiac side effects finally causes GlaxoSmithKline's troubled diabetes drug to be pulled from European markets and severely restricted in the US
We might finally be getting some closure on the Avandia (rosiglitazone) saga: the European Medicines Agency (EMA) has decided the troubled diabetes drug should be pulled from the market while the US Food and Drug Administration (FDA) has said it will 'significantly restrict' its use.
Avandia was once a blockbuster for UK pharma giant GlaxoSmithKline (GSK), achieving global sales of ?1.6 billion in 2006. But concerns over cardiac side effects have caused sales to slide dramatically. In 2009 the drug made just ?771 million.
The decline in sales means that these decisions will not hit GSK as hard as they would have done a few years ago, something analysts have said consistently in the run up to these announcements. But sales of ?771 million are nothing to sniff at. 'The suspension of sales in Europe and the limiting of availability in the US still represent a significant loss for GSK,' says Christine Henry, healthcare analyst at market research company Datamonitor.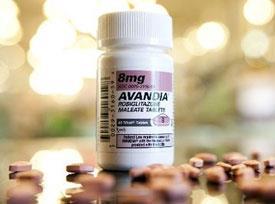 She says that some patients will switch to Actos (pioglitazone), marketed by Takeda, which is in the same class of compounds. But the chances of Takeda profiting significantly from such a shift are low. Actos will come off patent in 2011 and in any case has safety concerns of its own, recently coming under review at the FDA due to a suspected bladder cancer link.
GSK says that it 'continues to believe that Avandia is an important treatment for patients with type 2 diabetes'. But it expects global sales to drop to ?100-150 million for the second half of 2010, with 'minimal annual sales thereafter'.
The FDA is restricting use to patients with Type 2 diabetes who cannot use other drugs. This follows a July recommendation from an FDA advisory committee to keep the drug on the market.
The EMA says that doctors should stop prescribing Avandia. 'Clinicians should review all patients currently on rosiglitazone and take appropriate action, according to the individual clinical situation, to change to another suitable treatment,' said Kent Woods, chief executive of the UK Medicines and Healthcare Products Regulatory Agency.
Andrew Turley