Stopping cell growth by targeting key messenger molecules could provide a new approach to cancer therapy
Scientists believe they have solved the mystery of how a drug originally developed for treating anxiety can kill cancer cells. The discovery could, the researchers say, lead to a new type of cancer drug that targets small messenger molecules in cell - rather than proteins, which are the usual target for drugs.
Siramesine had shown early promise for the treatment of anxiety, but in 2002 its development was abandoned after clinical trials found it to be ineffective. However, the compound was subsequently shown to suppress the growth of certain types of cancer cell, in the test tube and animal models. Originally it was thought that it was because the compound attached to a particular protein receptor in the cell membrane.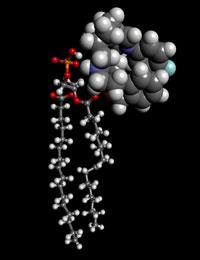 Now, however, Paavo Kinnunen from the University of Helsinki in Finland, and colleagues from Finland, Denmark and the UK, have shown that siramesine exerts its anti-cancer effect by binding tightly and specifically to a phospholipid in the cell that is an important molecular messenger involved in cell proliferation.
'Purely out of curiosity we were looking at the association of various small molecules will artificial cell membranes made up of various phospholipids,' Kinnunen says. 'We showed that siramesine associated with the membrane, but when we looked closer we saw that it formed a very tight complex with a particular molecule, phosphatidic acid.'
Molecular dynamics simulations suggested that an especially strong hydrogen bond forms between an exposed phosphate group of the phosphatidic acid and a protonated nitrogen on siramesine. By entangling itself with the phosphatidic acid, it seems that the siramesine prevents it from doing its job in the cell. "Phosphatidic acid is known to be important in signalling pathways that promote cell survival," says Kinnunen.
Commenting on the finding, David Thurston, Cancer Research UK's Professor of Anticancer Drug Discovery at the London School of Pharmacy, says, 'This work could lead to a novel family of anticancer drugs based on the inhibition of phosphatidic acid signalling - but it is at a very early stage. However, Siramesine has already been studied in human clinical trials as an anti-anxiety agent, and appears to have very low toxicity and favourable characteristics with regard to formulation, bioavailability and metabolism.'
There are several steps before the compound could go into cancer clinical trials, adds Thurston. The team will need to confirm their proposed mechanism of action in mouse models, then use structure-activity studies to identify more potent analogues of the drug, and assess whether there is any selectivity for specific tumour types, he says.
Simon Hadlington
Enjoy this story? Spread the word using the 'tools' menu on the left.
References
M J Parry et alJ. Am. Chem. Soc., 2008, DOI: 10.1021/ja800516w