An apparent attempt to blow up a chemical facility in France highlights security concerns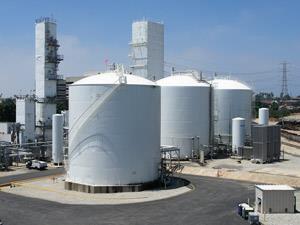 The attempted bombing of a chemical plant in France as part of an apparent terrorist attack on 26 June, which culminated in an explosion there and involved a beheading, has exposed the vulnerability of chemical plants, according to several security experts.
The facility in question is owned by US-based company Air Products & Chemicals. French authorities have reportedly detained 35-year-old Yassin Salhi for his alleged involvement in the plot to blow up the facility. He apparently drove a van into a warehouse containing canisters of gas, acetone and liquid air, creating an explosion. Salhi is also being accused of decapitating the man in charge of the transportation company that employed him.
The chief executive of Air Products, Seifi Ghasemi, issued a statement expressing sympathy for the victim and his family. He said the incident 'reinforces that we all need to take safety and security very seriously, every day, and remain vigilant in everything we do'. All of the other employees are safe and accounted for, according to Ghasemi. Security has been increased at Air Products' locations around the world as a 'precautionary measure,' he said.
'It's time for the industry to take seriously the need to reduce both the attractiveness of facilities as terrorist targets and the potential consequences of successful attacks,' says Paul Orum, a consultant based in Washington, DC who advises public safety advocacy organisations on chemical security. Orum and his colleagues have identified safer alternatives for many industries. For example, polyurethane foam manufacturers can eliminate bulk ethylene oxide by substituting vegetable-based polyols, and titanium dioxide producers can eliminate bulk chlorine gas by generating chlorine on-site as needed without storage, or by using the sulfate process.
David Halperin, an attorney who formerly worked on the US National Security Council staff and Senate Intelligence Committee, agrees that more can be done to ensure the material inside such facilities won't easily ignite. 'Better security is a good thing, but the really important thing is inherently safer chemicals,' he states. '[the attack in France] shows that someone can easily gain access to a plant, and if the materials in a plant are susceptible to causing damage if ignited, that is a risk.'
The American Chemistry Council (ACC) called the incident 'an important reminder that the work of defending against terrorist attacks is never done'. It says it is actively discussing with its members and the US Department of Homeland Security whether additional actions are needed to bolster chemical plant security in the US and abroad, noting that member companies have invested more than $14 billion to further enhance security at their facilities under ACC's Responsible Care Security Code programme.
The attack in France happened the same day as foreign tourists were murdered at a beach resort in Tunisia, and a suicide bomber attacked a Shia mosque in Kuwait. It was unclear whether these events were related, although Islamic extremist groups are believed to be linked to all three.
'It appears to be a coordinated effort, and that certainly should raise concerns about chemical plants, as well as refineries,' warns Richard Sem, the president of the security and workplace violence consulting firm Sem Security Management in Wisconsin, US. He notes that many facilities are in populated metropolitan areas, where an explosion or a dangerous release could conceivably cause significant harm.