Independent investigation into the BP oil spill reinforces concerns over the suitability and stability of cement used in the well
An independent investigation into the Deepwater Horizon oil spill has reinforced concerns over the suitability the cement used in the well construction. Laboratory tests and analysis of data provided to BP by cement contractor Halliburton indicate that the cement may have been faulty, but also that tests to confirm the integrity of the cement were misinterpreted or not conducted.
As reported by Chemistry World in September, an internal analysis by BP highlighted possible problems with the cementing of the well as a contributing factor to the explosion and subsequent oil spill at the oil rig in April. The National Commission on the BP Deepwater Horizon Oil Spill and Offshore Drilling, established by the US government in May this year, has now released its own independent assessment of the cementing process.
The debate hinges on Halliburton's use of nitrogen gas and other additives to make a cement foam that would flow to the bottom of the well and remain stable as it cured. The commission's interpretation of the information provided to it is that 'the cement may have been pumped without any laboratory results indicating the foam would be stable'.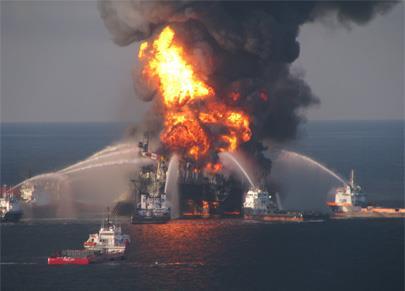 Independent laboratory tests performed by cement specialists at US firm Chevron were 'unable to generate stable foam cement from materials provided by Halliburton and available design information'. The commission points out that the cement and additives supplied by Halliburton were not from the same batches as those used on the rig, but were 'in all other ways identical in composition'.
In its preliminary response, Halliburton states the materials from the rig are subject to a Federal Court preservation order, but will soon be released to the Marine Board of Investigation for analysis. The company also asserts that tests on off-the-shelf materials rather than the 'unique blend of cement and additives that existed on the rig' could lead to 'significant differences' in test results.
The commission's assessment concludes by pointing out that 'cementing wells is a complex endeavour and cementing failures are not uncommon even in the best of circumstances.' It also points out that the oil industry has developed tests and techniques to identify and remedy cementing failures, but that personnel at BP and/or rig owner Transocean 'misinterpreted or chose not to conduct such tests.'
Halliburton's response echoes this conclusion, saying that the company believes that 'had BP conducted a cement bond log test, or had BP and others properly interpreted a negative-pressure test, these tests would have revealed any problems with Halliburton's cement.'
Phillip Broadwith