Material slowly releases growth hormone to aid healing and reduce rejection problems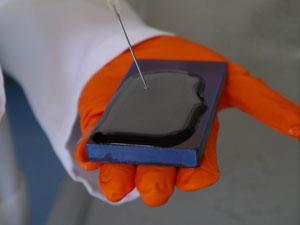 A new gel developed by researchers at Uppsala University, Sweden, could lead to a smart coating that makes it easier to
fuse surgical implants with bone tissue
by reducing the chances of rejection by the body. The advance could also help develop a new generation of biomaterials that are active, responsive to stimuli and promote growth of natural tissue.
Implants like hip replacements are typically made of a high load bearing metal like titanium, and need to be connected to the surrounding body tissues. The new work offers a way to promote this connection by coating the implant with a growth factor such as bone morphogenetic protein (BMP-2) that promotes bone formation – linking the metal implant to the patient's bone tissue.
The gel is made of several modified versions of hyaluronan, a large biological molecule. To produce it, the researchers used click chemistry to join up polymers containing bisphosphonate groups – part of the molecule that controls protein and calcium binding.
They then exposed a large, smooth titanium coated surface to these modified biopolymers, gradually building up layers of the gel. Next, the researchers used neutron reflection measurements at the Institut Laue-Langevin in France to characterise the thickness and the profile of the polymer density in the gel layers. 'There is a lot of water and the diffuse layer of polymer extends to a few tens of nanometres,' says author Adrian Rennie.
When the scientists poured dilute solutions of BMP-2 over the gel layers they observed that the protein bound the surface much more effectively than the control. 'The adsorbed amount was approximately 4mg/m2, and this remained when the surfaces were rinsed with water,' says Rennie.
When the bisphosphonate modified gel was rinsed with a calcium-containing solution, it reduced the amount of BMP-2 bound to the interface by about a factor of two – meaning that the gel could provide controlled release of the protein and promote bone formation.
Traditionally, the release of BMP-2 from materials within the body is difficult to control, so ensuring a targeted delivery to stimulate bone formation without causing tissue abnormalities is extremely important, says David Barlow of King's College London, UK, who was not involved in the study.
The next step is to test the gel on real implants. 'Much further work is needed to deliver BMP-2 in a controlled and safe manner, including their testing in large, randomised clinical trials,' says Aman Sharma of the Nuffield Department of Orthopaedics at the University of Oxford, UK, who did not take part in the research either.