Near-death experience sparks row with science and technology committee
The near-death experience of the University of Sussex's chemistry department earlier this year is still causing ripples in UK parliament.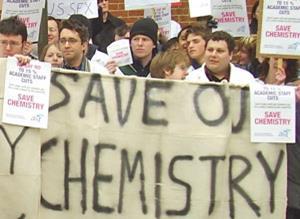 The government's Department for Education and Skills (DfES) has responded angrily to criticism from the Commons select committee on science and technology, whose inquiry into the Sussex affair slammed the lack of powers that government funding bodies have to intervene in university politics.
DfES has now accused the select committee of being blinkered by focusing on Sussex, and adds that universities should be free to decide which departments they open or close.
Policy failure
At the time of their inquiry, the select committee said that the higher education funding council for England's (Hefce's) failure to intervene in plans to restructure the chemistry department highlighted a policy failure. The government entirely rejects this criticism in its formal response: 'It would not be a sensible objective to preserve every chemistry department in the UK HE [higher education] sector, or every department in a STEM [science, technology, engineering and medicine] discipline, and we have never set such an objective,' it said. 'On the contrary, the government has said that institutions should play to their different strengths.'
Select committee member Brian Iddon, MP for Bolton South East, was disappointed by the response. 'Some more strategic thinking needs to be done,' he said. 'It's not good enough for universities to open quack courses in pseudo-science,' Iddon told Chemistry World, referring to non-traditional courses such as complementary medicine, which attract students and money away from core STEM subjects, he said.
Iddon argues that when a department wins funding in the Research Assessment Exercise, that money should be tied to that department alone. At the moment, this money goes in to a university-wide pot to be shared out, and this system offers no incentive for departments to perform well, Iddon said. DfED disagrees: 'A system that tied teaching grant to individual departments would be unwieldy, inflexible and highly bureaucratic,' it said.
Iddon rejects DfED's accusation that the committee focused solely on Sussex. 'I deny that we were blinkered,' he said. 'We've looked at the bigger picture for a long time, we've looked at a long series of closures.'
Lab expenses
RSC chief executive Richard Pike called the government response 'rather predictable'.
While the RSC is pleased that chemistry remains at Sussex, a more fundamental matter needs to be addressed, he added. The weighting given to fund lab-based subjects, currently set at 1.7 times the standard amount of funding per student, is too low. The government is acting too slowly to correct this imbalance, he said, which could result in a further suffering for lab-based science courses.
The DfED report did not comment on a number of the select committee's findings - including an accusation that Sussex's vice-chancellor Alasdair Smith failed to replace key staff in a shrinking department - saying they were matters for the University of Sussex. The select committee now plans to hit back with a formal response in October.
At Sussex, the chemistry department is doing well since it was saved, according to Geoff Cloke, a faculty member. Three new academic posts are about to be advertised, and Hefce has provided money for 15 extra students per year, bringing the total to 40 per year. This money will be phased in over four years from 2007/08. 'This equates to roughly ?75 000 per year additional income,' Cloke said.
Katharine Sanderson