Government officially supports new build
The UK government has formally announced its long-awaited decision to support a new generation of nuclear power stations.
Keeping the country's electricity supply secure and meeting carbon dioxide emission targets were behind the government's approval for nuclear. The costs of constructing, operating, and decommissioning the plants would be borne by the private sector, explained John Hutton, head of the Department for business, enterprise and regulatory reform. 'The evidence in support of new nuclear power stations is compelling,' he told members of parliament on 10 January.
Nuclear plants could, in theory, be constructed in the UK whatever the government's view. But private investors would not risk their money without political support. The government's public approval now reassures investors that power plants will not be delayed by such obstacles as planning permission, explained Adrian Bull, UK stakeholder relations manager for Westinghouse, the US-based nuclear construction company.
Looming threat
The UK's 19 nuclear power stations supply a fifth of the country's electricity, but all except one are due to close by 2023. Replacing them with new nuclear build would fill the electricity shortfall and limit greenhouse gas emissions - and the government has committed to a 60 per cent cut in carbon dioxide emissions by 2050. 'If the UK is to meet its carbon reduction targets, a nuclear replacement programme is essential,' said David White, energy spokesperson at the Institution of Chemical Engineers.
Despite Hutton's announcement, new nuclear plants are still a decade away in the UK. Power companies such as E.ON and Electricite de France have already expressed interest in building the plants, and British Energy will decide in the next few months which partners it prefers to help it replace reactors at existing atomic sites. Four designs, from Toshiba-Westinghouse, Areva, Atomic Energy of Canada Ltd (AECL), and General Electric, are being examined by the Health and Safety Executive, together with the Environment Agency (see 'Designing a nuclear future', Chemistry World, October 2007, p52). But it will take another four years before a design and site is selected, and a further five before a plant can operate.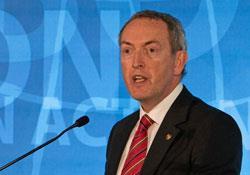 Environmental groups said that nuclear plants would be built too late to have an effect on carbon emissions in the next decade, and that the government had ignored the views of the public. Last year, a public consultation on nuclear was condemned by a High Court judge as 'inadequate' and 'misleading', forcing a second round of consultation which finished in October 2007.
International boost
The UK's approval could bolster the resolve of private investors in nuclear power in other countries. France and Finland are already building new nuclear power stations, and many nuclear designs have been submitted to the US Nuclear Regulatory Commission for safety approval. Investors' confidence in the economics of nuclear electricity generation has been boosted by the high price of oil, now over $100 a barrel, and the hope that a global price might be set on carbon emissions.
Scientists, while welcoming the government's decision, also warned that plenty of detailed decisions remained, around such issues as radioactive waste disposal and skills shortages. 'The UK must maintain a high level of science teaching and research,' said RSC chief executive Richard Pike. 'If we fail to provide sufficient numbers of qualified scientists, the country will risk losing its way in providing energy for the future.'
Richard Van Noorden
Enjoy this story? Spread the word using the 'tools' menu on the left.