Selective and easy-to-read detection system for mustard gas simulant that will hopefully translate to the real thing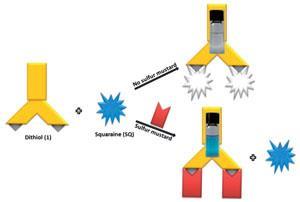 Scientists in the US are trying to develop
a new detection system for the chemical warfare agent mustard gas
.
There is no antidote to mustard gas, which burns the skin, eyes and respiratory system. Victims not killed by an attack are left severely incapacitated. It is an environmentally persistent chemical and its cruel effects can take around 12 hours to take hold. A cheap and simple sensor to alert civilians and emergency responders to its presence is obviously desirable.
Eric Anslyn and Vinod Kumar at the University of Texas at Austin are getting closer to such a system. With the knowledge that chlorine atoms in mustard gas will readily react with good nucleophiles like thiols, they have designed a dithiol and squaraine dye system to give a clear colour change in the presence of the mustard gas simulant 2-chloroethyl ethyl sulfide, also known as half mustard. Normally, the dithiol would react with and consequently bleach the squarine dye. In the presence of half mustard, the dithiol is protected and does not react with the squarine dye so the dye's blue colour is clearly visible.
Current test strips used to detect mustard gas are not selective for just that agent, explains Anslyn. 'Our main motivation was to create a selective method that will only signal the presence of mustard gas.' The team tested the system on surfaces, in soil and in the gas phase, and it is selective for half mustard – it does not respond to the oxygen analogue of mustard gas, acetylating agents or nerve agents.
'Taking into consideration current events [in Syria], one can see that the use of chemical weapons unfortunately remains a matter of concern. The development of a sensitive, selective, low cost and easy-to-read – by a simple visible change in color as presented here – toxic gas sensor is of overwhelming importance,' comments Jean-Pierre Simonato, who also develops colorimetric detection methods for chemical weapons. He says the technique now deserves to be confirmed on actual mustard gas.
Indeed, Anslyn is now collaborating with another team to validate the system on the real thing.