Warwick team who reduced the fat in chocolate using fruit juice create new system to add alcohol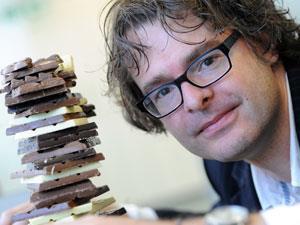 It sounds like a dream project for any PhD student - making vodka jellies in the lab - but that's exactly what
Stefan Bon
's team at Warwick University, UK, have been up to. What's more they've then been adding those jellies to chocolate to make a vodka infused chocolate.
We covered Bon's work back in September 2012, when his team showed how adding fruit juice to chocolate could reduce the fat content by half. However, for that system to work the encapsulated liquids needed to be slightly acidic, hence why fruit juice was such an ideal choice, and the liquids needed a suitable surface tension to stabilise the emulsion. The technique also requided the addition of fumed silica particles and chitosan, well used food additives but ones that Bettina Wolf of the University of Nottingham said might not be so attractive to confectionary manufacturers.
The new jelly approach helps fix these concerns. The gelling agent used by the team is agar, used in foods and labs around the world. The agar is heated with vodka, just as you'd make vodka jelly at home. It's then cooled down to just below 40°C, where the the agar sets and polymorph V of cocoa butter is molten. Just by mixing the two together with a kitchen blender with the emulsifier polyglycerol polyricinoleate, widely used in chocolate, Bon's students created small balls of gel within the chocolate, again reducing the fat content without changing the mouthfeel. Bon told the 245th ACS National Meeting & Exposition in New Orleans, US, that using this technique you can easily create a chocolate that is 20% vodka, but because the vodka is encapsulated in the gel it doesn't taste that strong. 'You wouldn't get the same immediate whack in the face' that you would get with a drink of that strength, 'well, you would later', he laughs.
Of course, if you're talking about health benefits and reducing the calorific values of chocolate, adding vodka isn't the ideal choice but the technique does open up the approach to adding different liquids to the chocolate. But Bon also suggests there will be a market for this new alcoholic chocolate. For Bon's students the appeal was clear. 'They couldn't wait to taste this chocolate,' he admits.
Rohan Tikekar, who uses nanoparticles to improve food's nutritional benefit describes Bon's work as 'quite fascinating', adding that he thinks there are going to be a lot more food applications for both Bon's approaches. 'Stefan's work is much more applied than my own,' he adds, 'and it seems almost ready to use in food production.'