Rather than looking at a crystal on a screen, print it out and hold it in your hand
Scientists in the US have devised a method for printing three dimensional models of crystals using a 3D printer, the original CIF file and freely available software that can be run on standard operating systems.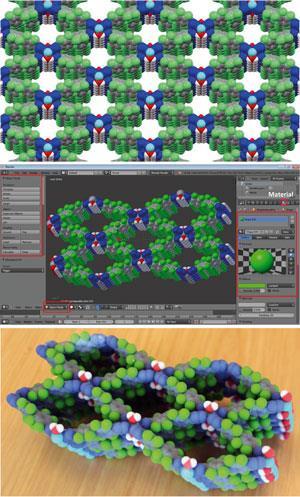 Crystallographers like to picture complex crystal structures in three dimensions. Many use software that allows them to visualise the structures in a virtual space, but a better option would a physical model that you could hold in your hand.
Ognjen Miljanic and coworkers at the University of Houston in Texas have developed a means of doing just that. Their step-by-step instructions detail how files that commonly store crystallographic information (known as CIF files) can be converted into a printable format, using Mercury, a piece of software currently in regular use by crystallographers, and Blender, a 3D computer graphics product often used for creating animated films. Programming experience and knowledge of 3D printing techniques are not a prerequisite for using the instructions. The team hope their procedure will make it easy for someone to use a 3D printer to manufacture and examine complex 3D crystal structures.
Miljanic points out that similar methods do already exist, but says theirs is particularly simple to use, and offers greater flexibility for printing certain types of structures, such as segments of so-called infinite structures.
Simon Leigh, a 3D printing expert at the University of Warwick in the UK is enthusiastic about the method. 'It's providing researchers with a brilliant opportunity to get right in amongst the structures and see what's going on rather than just looking at them on a computer screen.' James Bannock, a researcher at the Centre for Plastic Electronics at Imperial College London, UK, who regularly makes use of a 3D printer as part of his research, sees potential for its use in schools and universities. 'The application here is potentially most interesting for teaching or outreach activities where high quality, vibrant models can be used to convey understanding of complex conformational structures in a fun and engaging way.'
The main barrier to widespread use of this technique is the lack of availability of 3D printers. 'People are not fully aware of how much 3D printers have dropped in price in the last decade,' says Miljanic. 'They still think that that it's a futuristic, really expensive technology, but it isn't.' Miljanic hopes that this facility will become commonplace in the near future.
References
This paper is free to access until 29 May 2014. Download it here: