Nuclear forensic scientists use sulfur isotope ratios to shed light on the source of nuclear materials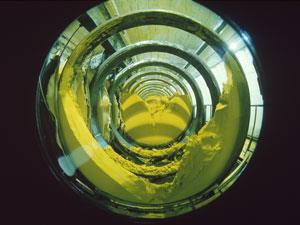 A new way to determine the source of nuclear materials
has been developed by nuclear forensic scientists in Germany and South Korea. The sulfur isotope ratio in uranium ore concentrate gives an identifiable signature that depends on the origin of the ore and how it was processed.
Nuclear forensics is the analysis of nuclear materials, with a view to determining their heritage. This information can be used in conjunction with law enforcement and intelligence information to find individuals and organisations responsible for the illicit proliferation of nuclear material, or those planning nuclear terrorism.
Uranium ore concentrate, commonly referred to as yellowcake, is an important material in nuclear forensics as it is a key intermediate in the manufacture of nuclear fuel. The origin of yellowcake can be identified by the impurities found in it, but production processes can affect this signature and obscure the ore's initial origin.
Zsolt Varga and his team at the Institute for Transuranium Elements are specialists in nuclear security and develop tools to identify unknown nuclear materials. In collaboration with scientists from the Korean Atomic Energy Research Institute, they have uncovered a new signature for determining the origin of yellowcake. The signature arises from the 34S/32S isotope ratio, which is ascertained by sulfate extraction using ion exchange and subsequent analysis by inductively coupled plasma mass spectrometry (ICP-MS).
'It is important to be able to verify the source of these materials, to ensure they are not diverted to non-peaceful use,' explains Varga. 'We hope that we have demonstrated a good comparative and predictive signature to identify the source of unknown materials.'
'The work of Varga et al has the potential to become an efficient method for the accurate assessment of uranium ore concentrate origin,' says François Doucet, an expert in nuclear forensics at the National Research Council Canada. 'Sulfur is a very good choice because its isotope ratio is influenced by where it came from.'
Having tested their results against a sample set of global origin, Varga's next move is to perform the analysis of a larger sample size to further explore the application of this isotope signature.