After an eight year hiatus chemistry will return in a new course combining the discipline with biomedicine
King's College London (KCL) is reopening its department of chemistry in 2012, eight years after it was closed due in part to a sharp drop in the popularity of the subject.
Now a resurgence of interest in chemistry has prompted KCL to restore the department, which was originally one of the oldest in the country. Chemistry has been taught at KCL since the founding of the college in 1831, when John Frederic Daniell, the inventor of the electrochemical cell, was appointed the first professor of chemistry.
However, the new department, which will be part of King's School of Natural and Mathematical Sciences, will initially offer only a four year MSci degree in chemistry with biomedicine, the only course of its kind in the country. Students will not be able to take a straight chemistry degree.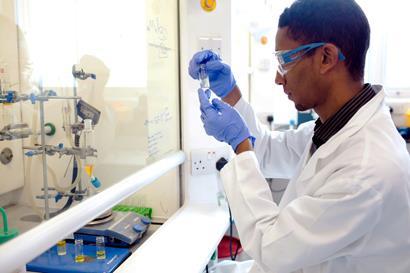 The course will draw upon KCL's wide expertise in imaging, drug discovery, delivery, analysis and detection, macromolecular structure determination, materials sciences and nanotechnology.
'Students doing the course will gain a new perspective on chemistry which will give them a great deal of flexibility in their career choice,' explains Roger Morris, head of biomedical sciences at KCL, who is a chemistry graduate himself. 'We are working to gain accreditation from the Royal Society of Chemistry for the course. It will cover the fundamentals of chemistry with a focus on inorganic, organic and physical chemistry. We will be selective in parts so that the inorganic will be heavily based on metallo-inorganic science, which is necessary for nanotechnology.'
Chemistry has already become a key element in biomedical and material science at King's with over 30 chemists embedded in many different departments.
'Students on the course will not be doing the fundamentals of biology in the same way as they will be doing the fundamentals of chemistry,' says Morris. 'There will be a strong interface with biochemistry with an understanding of areas like the molecular side of protein chemistry. In the final year they will be doing a short course in molecular biology including how to slice DNA, put it into a gene and express the gene for an identifiable protein.'
KCL needs a minimum of 10 students for the first degree course in 2012-13 academic year. But they are confident of attracting around 40. 'We will soon be having an open day on the course and already 140 students have signed up to attend,' says Morris.
The RSC has welcomed the opening of the new department which it says is further evidence of how chemistry courses are now flourishing around the country. 'It makes sense to lead the launch of chemistry at King's with a modern, multidisciplinary course that plays to the strengths of a well-respected research faculty,' says Jon Edwards, media executive at the RSC. 'In time, as the department grows, we're sure its chemistry course will grow as well.'
Sean Milmo