Report urges research into safety of nanomaterials and criticises food industry for lack of transparency
The UK House of Lords science and technology select committee has called for more research into the use of nanomaterials in food and criticised the food industry for failing to be open about its use of nanotechnology.
In a report published on 8 January, the select committee concluded that, although current legislation should be adequate to protect consumers, more research is needed into the toxicological effects of nanomaterials in food products. It also called for more transparency between the food industry, government and consumers about the use of nanotechnology in food.
The committee was particularly concerned about effective public communication regarding nanomaterials in food, aiming to avoid the negative reactions that have been seen over biotechnology and genetic modification, while keeping people informed about what is going into their food. The report proposes that the UK Food Standards Agency work with the food industry to develop and maintain an online register of all products containing nanomaterials and a database of materials in development.
The main health concern regarding nanomaterials is that a material's properties can be drastically different on the nanoscale, and not enough is known about how such materials interact with the body. The committee was convinced by evidence it heard that 'this does not mean unsafe products will be allowed on to the market; instead, where the risks cannot be fully determined, products will simply be denied regulatory approval until further information is available.'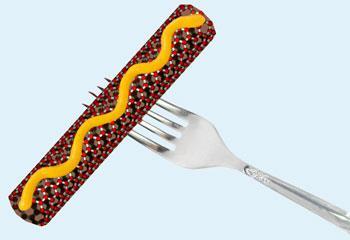 The report encourages the government and research councils to 'establish more proactive forms of funding and encourage research bids to address [these] severe shortfalls'. Research Councils UK (RCUK) - the umbrella organisation for the seven UK research councils - said in response to the report that 'the research councils support a wide portfolio of nanotechnology research. The Medical Research Council, for example, has awarded over ?2.5 million of funding to nanotoxicology research projects.'
Ian Norton, who researches processing techniques to control food structure on the micro- and nanoscale at the University of Birmingham, UK, says that the argument could even be taken one step further - as well as convincing consumers that their nanotechnology is safe, food producers need to explain the benefits it offers and why it is being used. 'If you don't carry the consumer with you, why should they buy the products?' he says.
Norton explains that it is therefore crucial that as well as examining safety, research is also directed towards consumer benefits such as reducing fat, salt or sugar levels in foods without affecting flavour, or developing smart packaging materials that can indicate whether food is safe to eat without relying on 'use by' dates.
Phillip Broadwith